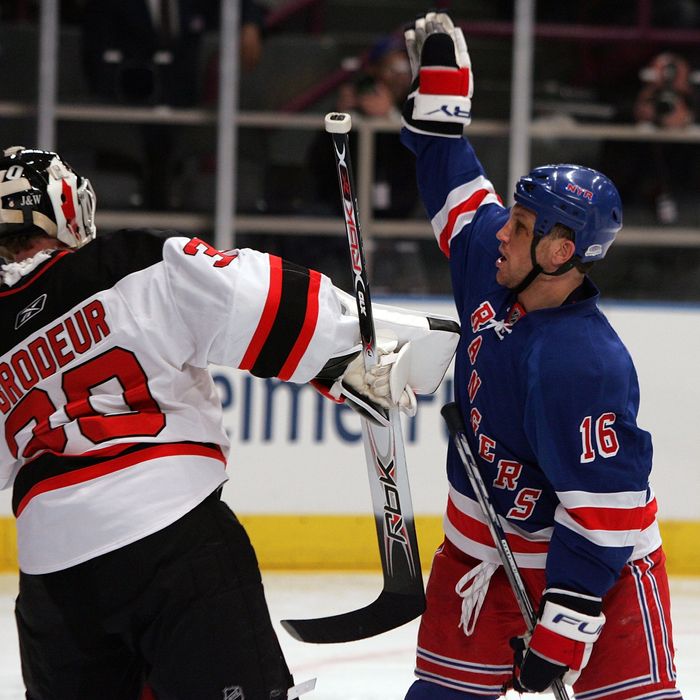 Martin Brodeur and Sean Avery in Game 3 of the 2008 Eastern Conference Quarterfinals.
Tonight, the Rangers and Devils will meet in the Eastern Conference Finals for the second time — eighteen years after their classic seven-game series in 1994. But it's the sixth time overall that the two franchises have met in a postseason series. Here, now, a refresher on the first five times these cross-Hudson rivals met in the playoffs.
1992 Patrick Division Semifinals: Rangers Win in 7
This was one of two Rangers-Devils series to go the distance, though, as we established earlier this spring, Game 7 wasn't among the most competitive the Garden has ever seen: The Rangers won 8-4 to advance to the second round. (Twenty years isn't really all that long ago — Martin Brodeur, who is still playing, saw a bit of action in that series — but this line from a Times article from the day after Game 7, sure makes it seem that way: "But that's why General Manager Neil Smith obtained Messier, that's why the Paramount Corporation is paying him $13 million over five seasons, that's why the Rangers are charging $85 for a top ticket during the playoffs." Needless to say, the days of a top ticket costing $85 are long gone.)
1994 Eastern Conference Finals: Rangers Win in 7
One of the great postseason series ever, culminating in one of the greatest postseason games ever. This series is best remembered for Mark Messier's guarantee in Game 6 (and his subsequent hat trick) and for Stephane Matteau's double-overtime wraparound winner in Game 7. But remember that two other games in this series also went into double-overtime: The Devils tied Game 1 after pulling their goalie before winning in double-OT, and the Rangers would win Game 3 on the first of Matteau's two double-OT winners in this series.
1997 Eastern Conference Semifinals: Rangers Win in 5
Mark Messier and Wayne Gretzky only spent one year together in New York, but that year included a run to the Eastern Conference Finals as the No. 5 seed. They'd knock off the Devils in the second round to get there, with the final game of the series ending on an Adam Graves overtime goal. Again, it was a wraparound that did in Brodeur, this time at 14:08 into the first overtime.
2006 Eastern Conference Quarterfinals: Devils Win in 4
The Rangers surprised a lot of people simply by making the playoffs in the first year after the lockout, but they wouldn't last long once the postseason started. The Rangers had all sorts of injury problems in this series — Jaromir Jagr and Darius Kasparitis both missed time, and Henrik Lundqvist struggled upon returning after a late-season hip-flexor injury and was benched in Game 2. The Devils, meanwhile, entered the series red-hot, after winning their final eleven regular season games. "It's pretty sweet for everybody especially in a season that the Rangers dominated all year long," said Brodeur after Game 4. "It was a long time coming for the Devils fans. For myself it's been a long time, too."
2008 Eastern Conference Quarterfinals: Rangers Win in 5
The Rangers won all three games in Newark in this series, while the lone Devils win came in overtime at the Garden in Game 3. But who are we kidding? This series is best remembered for Sean Avery and Martin Brodeur. You'll recall that the two didn't shake hands after Game 5, prompting Avery to say in a postgame interview that "Fatso there just forgot to shake my hand, I guess." And, of course, this was the series that gave us the Sean Avery Rule, because of the Avery's screening technique in the video below: