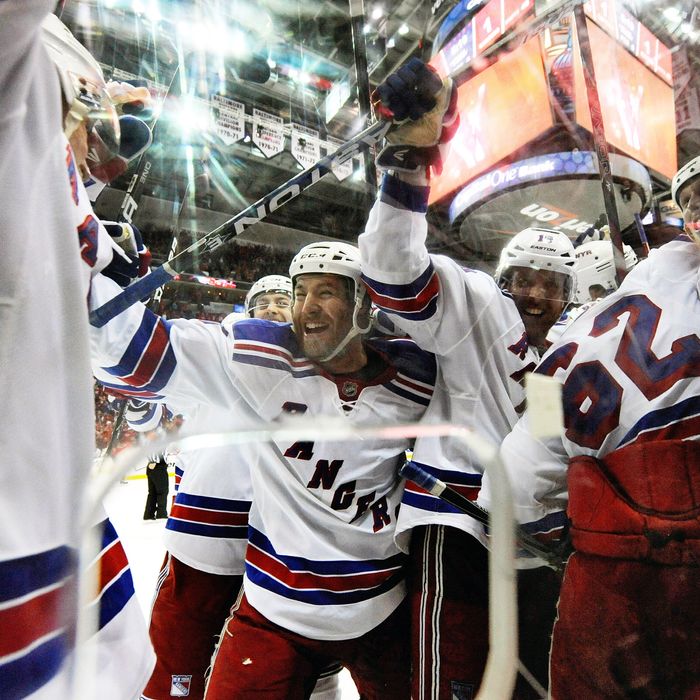 The Rangers celebrate Marian Gaborik's triple-overtime goal in Game 3.
Playoff hockey is stressful enough, but a playoff hockey game that goes into a third overtime is downright torturous. That only makes winning such a game even sweeter, though, and in a Game 3 that included more than 114 minutes of hockey, it's the Rangers that came away with a courageous, heart-stopping 2-1 victory to take a 2-1 series lead in the Eastern Conference semifinals. Marian Gaborik's goal at 14:41 of the third overtime ended this epic game — the first overtime playoff goal by a Ranger since Michal Rozsival scored one against Buffalo five years ago. Gaborik hadn't scored a goal since Game 1 of the opening round against Ottawa. Hell of a way to break out of a scoring slump, isn't it?
It's hard to believe these are the same teams that combined for just 32 shots in Game 1. This game featured so many quality scoring chances that they started to blur together by the end. The teams combined for 95 shots on goal, and both netminders were terrific. But the teams also combined to block 81 shots, and some of those blocks were as beautiful as the work of Henrik Lundqvist and Braden Holtby. (Ryan Callahan scored a goal to open the scoring in Game 3, but it's some of his blocked shots that really stood out in this one.) Neither of those figures, by the way, includes the shots that rang off the iron in overtime, nor does it include some great opportunities that ended with shots that missed the net. (Troy Brouwer's chance in the first overtime most immediately comes to mind.) We're pretty sure that at one point Brian Boyle blocked a golden opportunity by teammate Mike Rupp, but it's possible we blacked out and merely dreamed that.
Simply lasting more than five-and-a-half periods without collapsing is an accomplishment, but to do it after getting your head cut open by a teammate's stick (like Dan Girardi did) or after getting hit with the puck in the face (like Brian Boyle did) is unreal. (The Rangers' trainers weren't the only ones busy tonight; Mike Knuble required some work on the Washington side as well. To steal a line from the gentleman who posted the linked photo to Twitter, that face says all you need to know about playoff hockey.)
Then there's Ryan McDonagh, who got plenty banged up in this game as well and logged an absurd 53:21 of ice time while also blocking a game-high eight shots. The Rangers played most of this game with just five defensemen — John Tortorella doesn't have a lot of faith in Stu Bickel — so for as well-conditioned as they might be, an ultra-long game didn't necessarily work in the Rangers' favor. It's been a while since his name has come up, but boy, could the Rangers have used a healthy Michael Sauer in this game.
These teams don't play again until Saturday, but that's probably for the best: They could use the rest. We could all use the rest. In the meantime, if you'd like to watch Marian Gaborik's game-winner again (and again, and again), here you go: