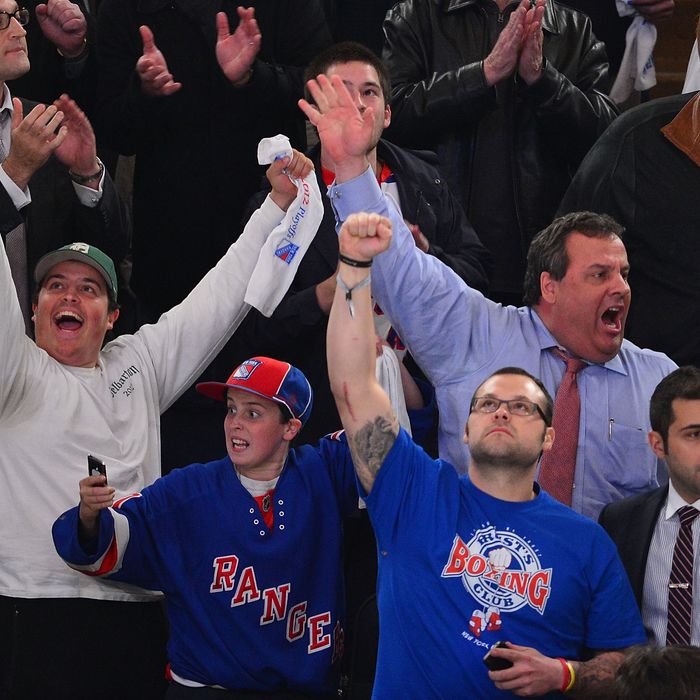 Chris Christie (and also Joba Chamberlain) cheer on the Rangers at Game 7 against Ottawa.
The photo you see above — in which Chris Christie, the governor of New Jersey, cheers on the Rangers at the Garden — was taken at Game 7 of the conference quarterfinal series against Ottawa on April 26. That same night, New Jersey's Devils were playing a Game 7 of their own down in Florida, but the Garden State's chief executive has never hid his hockey allegiance: Chris Christie, the governor of New Jersey, is a Rangers fan.
Here's Christie, speaking in June of 2010 to the Star-Ledger, in response to a follow-up question about his Dallas Cowboys fandom. The emphasis in the answer is ours:
And you never thought about faking or hiding this?
I don't nuance much very well (laughs). You know what? I always hated Hillary Clinton wearing a Cubs hat or a Yankees hat. I'm a Cowboys fan, I'm a Mets fan, I'm a Rangers fan, I'm a Knicks fan. I've got the Devils and the Nets in New Jersey, but I grew up when the Nets were on Long Island and the Devils didn't exist. It's not that I don't want the Devils to do well. I want them to do well when they're playing anybody but the Rangers. That's who I grew up rooting for.
The Devils, of course, will be playing the Rangers on a pretty big stage beginning tonight, when the two teams face off in the Eastern Conference Finals.
Here's some more Rangers talk from Christie from this past February, in an interview with WFAN's Boomer Esiason and Chris Carton, posted on Christie's official YouTube channel. The Rangers stuff begins at about the 5:44 mark:
Poor Devils. Now that the Nets are gone, they're the only major professional sports team in the state that actually includes New Jersey in its name. And as they get ready to play their biggest postseason series in nearly a decade — it's their first trip to the Eastern Conference Finals since 2003, one of their Stanley Cup years — the governor of New Jersey is on the record as saying that he wants the Devils to do well, except when they play the Rangers, as they'll be doing in this series. "I can smell the Cup," said Christie back in February, in the above interview. If the Rangers are going to play for it, though, they'll have to go through the team that represents Christie's home state. To repeat what we said Saturday night: This is gonna be a lot of fun.