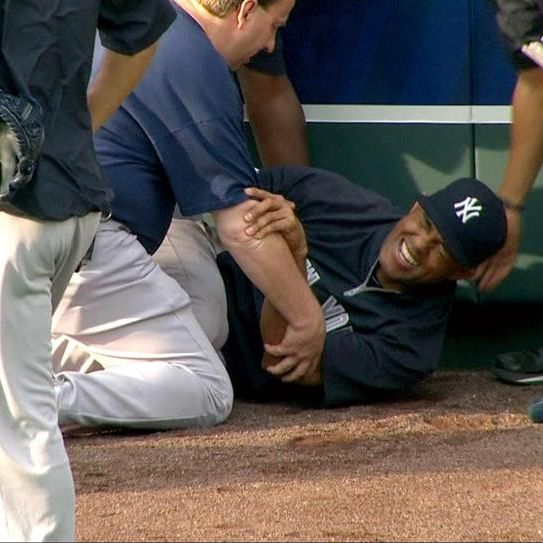 Mariano Rivera, yesterday.
John Sterling is fond of saying that you can't predict baseball. But Mariano Rivera has been so consistent over the years that he'd been the closest thing the sport has to predictable. Since 1997, a save situation meant a Rivera appearance, and a Rivera appearance meant hitters would witness a steady diet of the most perfect cutter they'd ever seen. It had all become so familiar: All the broken bats and the cheap hits and the weak ground-outs. There'd be the occasional hiccup, sure, but more often than not, his outings would end with him shaking hands with his catcher in celebration of yet another save. Even his hints of retirement allowed us to imagine how his final season would play out: Maybe he'd announce it right before the All-Star break and get a half-season's worth of heartfelt ovations from his hometown fans as he closed out a few more games. That's how this was supposed to end. Not like this.
Rivera's season is almost certainly over, and his career may be as well. We just don't know right now, and neither does he. All we can do is ask questions: If he'd already decided to retire, would this give him a reason to return so as to end his career on the mound and not the warning track in Kansas City? Or would a major injury at age 42 give him another reason to call it a day and start his Hall of Fame–induction clock, regardless of what decision he'd made prior to Opening Day? This whole situation thoroughly sucks.
Rivera deserves to go out on his own terms, of course. But even for purely selfish reasons, we'd hate to see his career end this way. We don't want our last image of Rivera's playing career to be the one you see above. (We're irrationally mad at the YES Network this morning because they had their cameras rolling during batting practice. We think we'd have preferred to merely read that Rivera hurt his knee than to actually see his face as it happened.) In the coming days, countless Yankees fans are going to try and figure out the last time they saw Rivera pitch in person, in case it turns out to be the last time they get the chance.
Alex Rodriguez gave an interesting quote yesterday after Rivera's diagnosis became known. From ESPN New York, emphasis ours:
"It's hard to even talk about it tonight," Rodriguez said after the game. "Mo means so much to all of us on a personal level. Obviously there's a significance on the field, on the mound with his presence. The bottom line is we're the New York Yankees. Nobody is going to feel sorry for us. We have a very capable roster in here. Guys have to step up, see it as an opportunity."
He's right, of course — no one feels sorry for the Yankees, because they're the hated Yankees. A-Rod knows that better than anyone on the planet. But even Yankee-haters can respect Rivera. They might not be shed any tears for any additional losses the Yankees might suffer this year with a weakened bull pen, but surely even the most heartless Red Sox fan wouldn't want to see Rivera's career end with a freak injury suffered while shagging fly balls during batting practice, as he has for years. (That the injury was suffered this way is especially cruel: It's long been said that Rivera might be the best athlete on the team.)
It's not like Yankees fans haven't sensed that the end was near for Rivera. He'd hinted before the season that this might be his last year, and at least the team has a potential successor in David Robertson, as well as a plan B in Rafael Soriano. In the spring, we'd tried to envision what Rivera's final appearance as a Yankee might look like: Would it come in October, closing out one final Yankees playoff win? Would he get an inning of work if it appeared their season was about to end with a loss? If they missed the playoffs, would it come on the final day of the season? Would the opposing team applaud him from the top step of the dugout, even as they prepared to try and score runs off him and spoil his big moment? Would the second half of the season turn into a well-deserved farewell tour, whether he wanted it or not?
Maybe we'll still get a chance to answer those questions in 2013. Maybe Rivera will decide to do whatever he can to get back on the field and pitch again. But we just don't know, and we're preparing for the worst. It wasn't supposed to end like this, but it might anyway.