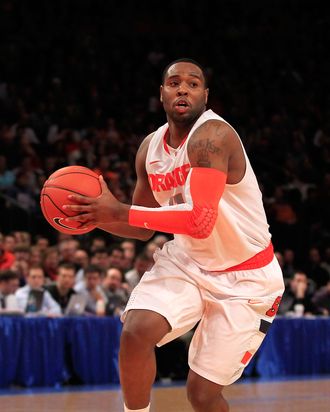 Scoop Jardine will work out for the Knicks on Wednesday.
The lineup for Wednesday's predraft workout — the Knicks' first of the year — was released this afternoon. The group includes a tidy little trio of matchups: two guards in Tu Holloway of Xavier and Scoop Jardine of Syracuse, two forwards in Northwestern's John Shurna and Texas A&M's Khris Middleton, and a couple of big bros with two first names: Michael Eric of Temple and Bernard James of Florida State. You've probably heard of some of these guys — Jardine's been at Syracuse for a while, Holloway is a local kid, Bernard James is 27 years old and toured in Iraq before joining the Seminoles, and John Shurna is John Shurna. These are not, however, top prospects. Anthony Davis will not be auditioning for the Knicks anytime soon.
As you may know, a fun, late-arriving by-product of the Knicks' rampant dealing over the last few years is that they are wanting for first-round picks for the next century or so. Their record this season earned them the sixteenth pick in the NBA Draft on June 28th. That pick is headed to Houston, though, because of the Tracy McGrady trade back in 2010. In the past, New York has jumped into the first round by paying a good team a few million dollars for their late pick (that's how they got Toney Douglas in 2009), but they dealt their "cash considerations" away to get Tyson Chandler, so that seems to be out of the question.
So, nabbing another prospect like Iman Shumpert (2011's seventeenth pick and recent First Team All-Rookie selection) probably isn't in the cards. The Knicks do have a second-round pick, though: the 48th overall selection. Finding another Landry Fields or even a guy like Josh Harrellson — a solid, promising rotation player (prefab nickname and willingness to grow an awful mustache optional) — would be great. A team with as much money tied up and as many expiring contracts as the Knicks have needs all the (relatively) free talent it can get, so they'll take that second-round pick seriously. If the scouts are on top of things, they might just happen upon another gem at the bottom of what's supposed to be a deep draft class. That process begins tomorrow.