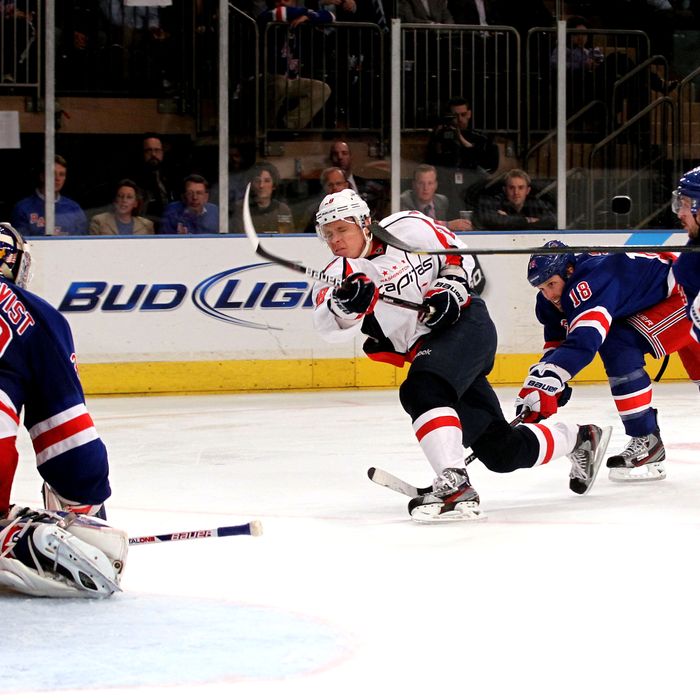 Alexander Semin and Henrik Lundqvist, in Game 5.
"I have a ton of optimism about our club," said John Tortorella yesterday about tomorrow night's Game 7 between his Rangers and the Capitals at the Garden. But a do-or-die Game 7 is an inherently scary thing, especially in a series in which the games have been so closely contested. One bad bounce, or a fluky deflection, or an officiating decision that the players have no control over could help swing a game that will send one of these teams home for the season. Here, now, three reasons to be as optimistic as Tortorella — as well as three reasons to worry, just in case you were planning on enjoying your Saturday afternoon in advance of the 7:30 start time.
BRING ON THE DEVILS!, OR, THREE REASONS TO BE OPTIMISTIC
1. Momentum has meant nothing from game to game in this series. Teams have alternated wins and losses through the first six games, and though much has been made about how the Capitals are 4-0 following an overtime loss in these playoffs, we'll note that they don't necessarily steal back momentum for good: They're 0-3 so far following those bounce-back victories (though that includes one stretch that spans two series, when they lost Game 1 to the Rangers after bouncing back with a Game 7 win over Boston).
2. The Rangers have the home-ice advantage. John Tortorella said before the playoffs began that home ice only means something in a Game 7, and here we are again. The Rangers franchise is 4-0 in Game 7s at Madison Square Garden, including a Game 7 victory over Ottawa in the first round. The Rangers will have the last change, meaning they'll get the matchups they want, and there's little doubt the building will be plenty loud, especially if the Rangers score first. (It's worth noting that the Caps have already won a Game 7 on the road in these playoffs when they eliminated Boston in the first round.)
3. The Rangers are here for a reason. They'll host this game because of a terrific regular season that earned them home ice through the conference playoffs. And we'll stick to what we believed before this series began: The Capitals play a similar system to the Rangers, but John Tortorella's team plays it just a little bit better. They've been blocking shots and doing work along the boards all season, and though this sounds terribly nonspecific, they've found ways to win tight games this year, be it because of a timely goal or a momentum-swinging penalty kill. The Capitals have some scoring threats that can create offense in a hurry, but we're intrigued by the potential return of the Kreider-Stepan-Callahan line combination. And we'll say this much: This seems like the sort of game where you want Brad Richards on your side.
WHAT IF THE CAPITALS JUST HAVE THEIR NUMBER?, OR, THREE REASONS TO WORRY
1. If not for a miracle finish to Game 5, the Rangers' season could be over already. Maybe Game 6 would have turned out differently if the Rangers lost Game 5 — after all, the Rangers have played better in this postseason when they're a little bit desperate — but they easily could have lost all of the last three games. Remember, the Rangers didn't give the Garden crowd much to cheer for during long stretches of Game 5, and the Caps certainly deserved their home-ice victories in Games 4 and 6. The Rangers have shown flashes of life in all three of those games, but they'll need to be more consistent tomorrow night.
2. The power play is a mystery. Here's the thing about the Rangers' power play: As frustrating as it can be, it's come up huge on a couple occasions in this postseason. There were the two second-period goals in a must-win Game 6 against Ottawa, for instance, or the two goals with Joel Ward in the box in Game 5 of this series. Of course, it can be streaky, and when it doesn't work, boy, does it not work. Certainly we've seen what the power play is capable of, but in what may very well be a low-scoring game, it's the one aspect of the Rangers' game that's tough to have a ton of faith in.
3. The Rangers make scoring seem so difficult sometimes. The Rangers have taken more shots than the Capitals in this series, but Henrik Lundqvist has had to work hard just to keep the Rangers in a couple of games. Meanwhile, after struggling in Game 1, Braden Holtby settled in and has had a fine series. The Rangers have scored thirteen goals to the Capitals' twelve in this series, so it's not like they're incapable of scoring. But Washington has frustrated them by blocking shots, just like the Rangers have done to opponents all year. We'd still give the Rangers the goaltending edge, but Holtby doesn't necessarily have to carry the team on his shoulders tomorrow night. Lundqvist will have to be sharp, but he's not invincible. And so the question, then, is: Can the Rangers score enough to win? That's been a big question all year for this team, and more often than not, the answer has been, yes, but barely. To repeat: Game 7s are so scary.