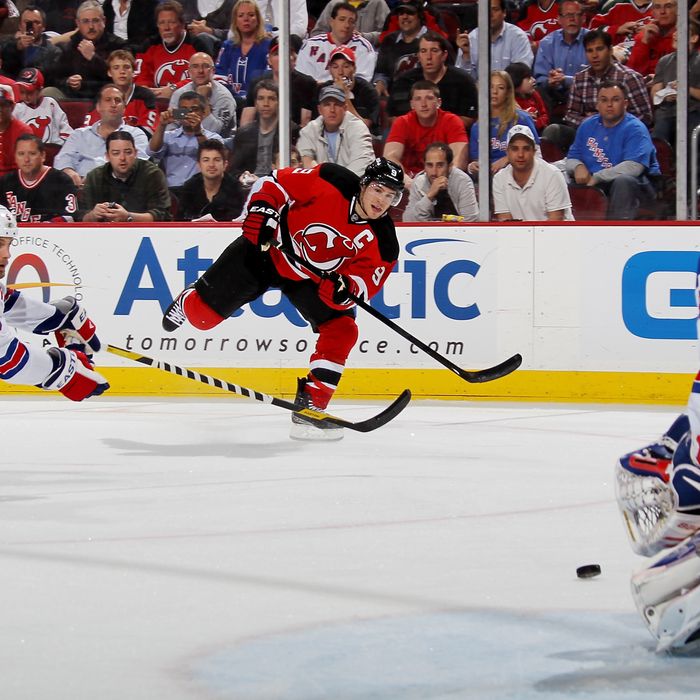 Dan Girardi, Zach Parise, and Henrik Lundqvist.
The Rangers and Devils have each won two games thus far in the Eastern Conference Finals, but make no mistake: New Jersey has controlled play more often than the Rangers have. We won't go into a period-by-period breakdown, but as we said after Game 4, the Devils should be pretty pleased with how they've played in this series. The Rangers have a couple things going for them, though: On the occasions that the Rangers have controlled the play — more specifically, in the third periods of Games 1 and 3 — they've been really good. (They outscored New Jersey 3-0 in each of those periods, scoring twice on Martin Brodeur in each game, then adding an empty-netter.) Twenty outstanding minutes can sometimes make up for subpar play earlier in the game, though we'd hardly suggest trying to make a habit of that. The other thing the Rangers have going for them, of course, is Henrik Lundqvist, who has two shutouts in the series and is capable of stealing a game. Which is a long-winded way of saying that the Rangers generally need to up their game a bit more than the Devils do as the series heads into tonight's Game 5.
We're not alone in thinking that tonight's game won't necessarily take the series to an even nastier place, following a Game 4 that we maintain wasn't as chaotic as some are making it out to be: Both Zach Parise and Peter DeBoer have said they don't anticipate further extracurricular activity going forward. (Or perhaps more accurately, we're confident the Rangers are aware that the Devils can play a disciplined game if the game turns chippy, as opposed to simply being physical.) The Rupp incident in Game 4 got all the attention, but don't forget: The Rangers took more penalties later in the period, including a pair by Carl Hagelin 2:27 apart. The Rangers unraveled a bit in that third period, and their frustration got the best of them. Tonight, John Tortorella's team will try and regroup in a pivotal Game 5.
Is tonight a must-win for either team? Not necessarily. Both clubs have won a do-or-die Game 6 to force a Game 7 in these playoffs, and they've both proven to be resilient throughout the postseason. But the advantages to winning this Game 5 are obvious: Do so, and all it takes is one win out of two to set up a date with Los Angeles in the Finals.
It appears that the Rangers will get Brandon Dubinsky back tonight. (With Brandon Prust set to return from his suspension, it looks like Steve Eminger and John Mitchell will be scratched.) The Rangers know what New Jersey's done well so far in this series — most notably, their relentless and effective forecheck — but as it always seems to with the Rangers, this series could come down to whether or not they can generate enough offense of their own.
Yesterday, when asked what he needed to do to get his top forwards going — Marian Gaborik doesn't have a point in the series, and Brad Richards doesn't have a goal (though he has picked up three assists) — Tortorella answered, "Pray." It made for a good back-page headline this morning, but Tortorella confirmed today, in case you were unsure, that he was kidding. (Having said that, it stands to reason that God would be rooting against a team called the Devils, right?)
Anyway, New Jersey has been able to get off to some great starts in this series and dictate the pace of the game in the early going, and their two wins have come in the games in which they scored a first-period goal. So far, all three Rangers series have followed a pattern: a win in Game 1, followed by a loss, a win, and another loss. But they're 1-1 in Game 5s so far, for what it's worth. The puck drops a little after 8 p.m.