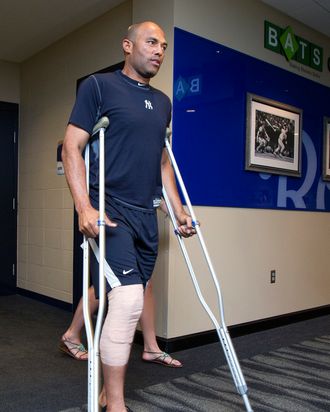 There was playoff basketball and hockey this week, but yeah, this was the week Mariano Rivera tore his ACL while shagging fly balls during batting practice in Kansas City. We feared this morning that Rivera may never pitch again, but he said in no uncertain terms today that he plans to return: "I'm not going out like this," he told reporters. But what happened this week that didn't involve depressing YES footage?
The Knicks lost the first three games of their series with the Heat. After the second of those losses, Amar'e Stoudemire punched through the glass encasement of a fire extinguisher and sliced open his hand.
After splitting the first two games of their series with the Capitals, the Rangers won an epic Game 3 in triple-overtime.
Tyson Chandler won the NBA's Defensive Player of the Year Award.
We looked at Chris Kreider's crazy April.
The Mets got swept by the Astros.
The Yankees lost two of three to Baltimore, then dropped the opening game of their series in Kansas City. Meanwhile, we learned that Freddy Garcia has been dropped from the rotation.
Junior Seau was found dead in his California home.
Andy Pettitte took the stand at the Roger Clemens trial.
A.J. Burnett, now with the Pirates, allowed twelve earned runs in two-and-two-thirds innings against the Cardinals.
The Brooklyn Nets officially unveiled their logo.
Carmelo Anthony once again topped our Knicks Power Rankings.
And we looked at the Kentucky Derby in this post-Luck world.
That's it for us, but we'll be back tomorrow after the Rangers-Capitals game, then again on Sunday after the Knicks-Heat game. Have a great weekend, and enjoy the games.