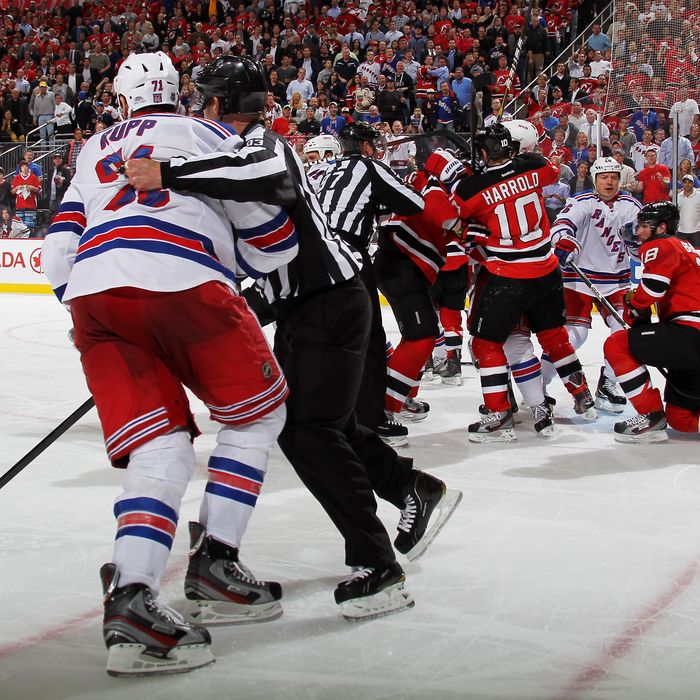 This week began with John Tortorella kicking off another chapter in his ongoing war of words with Peter DeBoer. (DeBoer, didn't have much to say this time, called Tortorella's comments "comical.") Then during a Game 4 in which the Devils evened the series at two, Tortorella and DeBoer got into a shouting match while on their respective benches after Mike Rupp shoved Martin Brodeur following a whistle. The series didn't necessarily turn nastier two nights later at the Garden, but Game 5 was a wild one in which the Devils took a three-goal lead only to see the Rangers tie the score. But New Jersey prevailed in the third period, and tonight — with 1994 on the minds of many — the Devils will try to finish off the Rangers in Game 6. But what happened this week that didn't involve the Kings waiting around to learn their Stanley Cup Finals opponent?
The Yankees briefly fell into a tie for last place, but then won the final two games of their series with Kansas City.
The Mets won two of three against Pittsburgh before opening their series against San Diego with a loss.
We looked at why the Knicks appear set to bring back Mike Woodson.
The Daily News reported that the Yankees could be up for sale soon; the team denied the report.
We looked at Ike Davis's rough season so far.
Mike D'Antoni spoke.
Tim Tebow wore a Jets helmet.
Gridlock Sam told Nets fans not to drive to the Barclays Center.
And the Heat advanced to the NBA's Eastern Conference Finals.
That's it for now, but we'll be back after tonight's Game 6 between the Rangers and Devils, then again, if necessary, after Game 7 on Sunday. Otherwise, we'll be back to our regular schedule on Tuesday. Have a great long weekend!