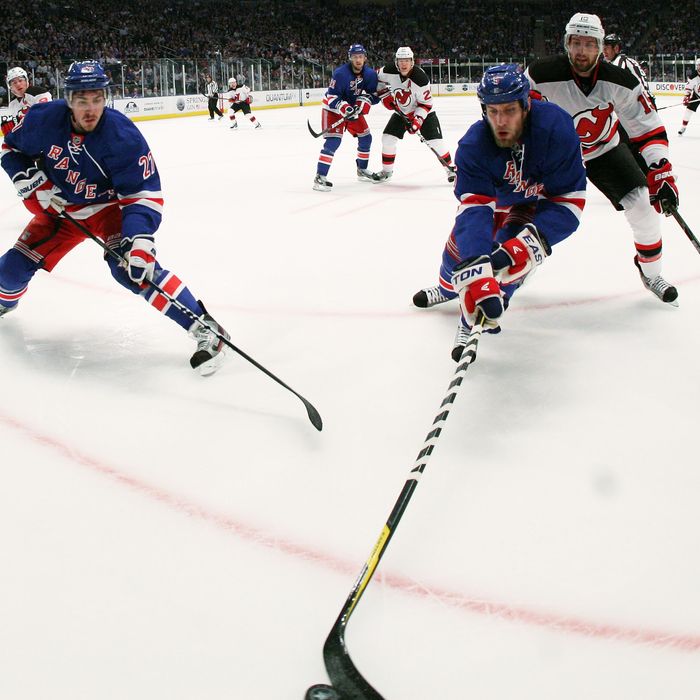 Ryan McDonagh, Dan Girardi, and Travis Zajac, in Game 2 of the Eastern Conference Finals.
The Rangers' win over the Capitals in Game 7 on Saturday night set up the franchise's sixth postseason meeting with the Devils, and the first in the Eastern Conference Finals since 1994. (This was surely exciting to New Jersey governor Chris Christie — a Rangers fan — as well as those members of the Mets pulling for the Blueshirts this spring.) Once again, Will's PS3 picked the Rangers to lose, while we again picked them to win, in a long series. The Rangers drew first blood, winning a Game 1 for the third time in these playoffs (and also kicking off much talk about their effective shot-blocking). The Devils, however, beat John Tortorella's team in Game 2, and will head back to the Prudential Center with home-ice advantage. But what happened this week that didn't involve plans for a really short flight?
The Mets split with both Milwaukee and Cincinnati.
The Yankees split with Baltimore, then lost two straight to Toronto.
We looked at how the Knicks future relies on Jeremy Lin taking less cash.
Tyson Chandler topped our final Knicks Power Rankings of the season.
The Giants got their Super Bowl rings.
The Heat lost two of their first three games of their series against Indiana.
We finally got official word that Citi Field will host the 2013 All-Star Game.
And we chatted with Mike Baxter of the Mets.
That's it for now, but we'll be back tomorrow after Game 3 between the Rangers and Devils. Have a great weekend.