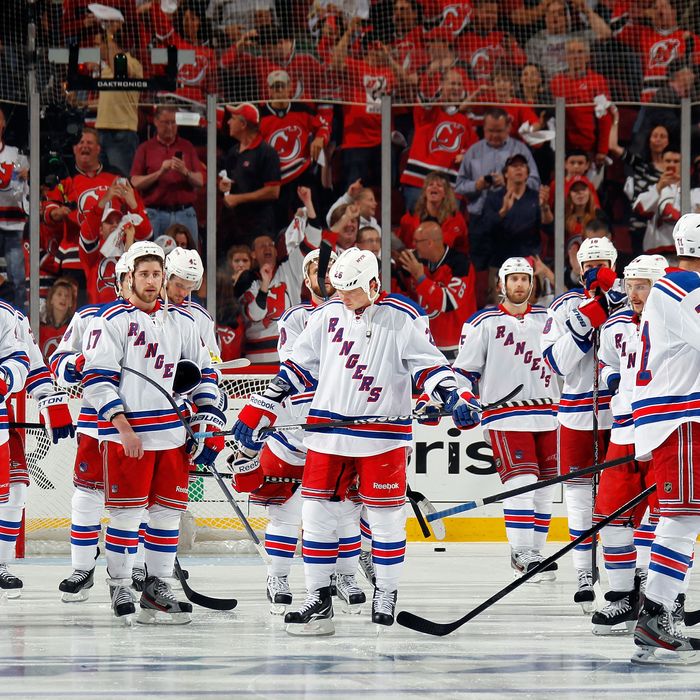 Rangers players following their Game 6 loss to the Devils.
The Stanley Cup Finals begin tomorrow night, and the Rangers won't be participating. Their season ended 63 seconds into overtime in Game 6 on Friday night, and so, this weekend, as the Kings and Devils prepared for Game 1 of the Finals in Newark, the Rangers packed their things at breakup day yesterday. This season, the Rangers finished with the top seed in the East and got to within two games of the Finals — big improvement over last season and the most successful playoff run in more than a decade, but still short of their ultimate goal. So, now what?
In general terms, the Rangers' problems this season had more to do with scoring goals than preventing them. Ultimately, the Rangers were done in by the Devils' forechecking and depth, but looking at the season (and the postseason) more broadly, the Rangers' biggest need is someone who can score. As we wrote on Friday night, this team can expect to improve, at least a little, just by virtue of some young players having gained more experience this year. Looking at the forwards, Derek Stepan doesn't turn 22 until next month, Carl Hagelin still has less than a full season of NHL experience, and Chris Kreider has yet to play in his first regular-season game.
But there could be bigger changes in store for next season. Glen Sather has smartly built a team around a homegrown core, but that doesn't mean he couldn't make a splashy off-season move again in 2012. It's why you'll likely hear Zach Parise's name attached to all sorts of free-agent buzz as July 1 approaches. And then, of course, there's the possibility they'll revisit a potential trade for Rick Nash. At this year's trade deadline, the reported asking price for Nash was absurdly high, and Rangers fans made their feelings known with a "We don't want you" chant during a Blue Jackets visit to the Garden. Sather still doesn't need be desperate here — this Rangers team has some needs, but it did a lot of things right, as well — but one wonders how much more he'd be willing to offer now that he's watched this team over the course of a few playoff rounds.
It's here we'll point to a Times story from yesterday, in which John Tortorella acknowledges the need for more offense:
He spoke about adding a player over the summer, even one who does not seem to fit into the hard-forechecking Tortorella mold.

"You've got to be careful about ruling people out," he said, and described a player like the offense-minded Nash, who scored 30 goals last season and has 289 in his N.H.L. career. "Sometimes, when you think it's a really good piece that may not exactly fit in all the little things you do, you can teach him those things."
The other thing to consider is that, even if there's a reasonable trade to be made for Nash — or if they go hard after Parise on July 1 — the Rangers would be looking at another large cap hit and would be doing so as the league's CBA is set to expire. Bringing in another player with a large contract means less flexibility going forward, though the Rangers might have reached the point in their rebuilding where they don't need flexibility for flexibility's sake. They've got some restricted free agents who are in line for raises over the next couple of seasons, but if they can add another big contract and manage to stay underneath the cap when all is said and done, this could be the time to do it. If they're going to win a Stanley Cup, much of the core that will do it is already here. Their window of opportunity is now open.
Something else to keep in mind: Predators defenseman Ryan Suter can become an unrestricted free agent this summer, but there are also rumors that if Nashville signs Suter to a long-term deal this summer, they could look to trade Shea Weber (who can otherwise become a restricted free agent in 2013). Ever since the Rangers traded Brian Leetch in 2004, they've lacked an elite offensive weapon on the blue line who could quarterback their power play. (Brad Richards, who can play the point with the man advantage, didn't have quite the impact on the Rangers' power play that they'd hoped.) This team's most pressing need is up front, but Weber finished sixth among defensemen in scoring this year and led all defensemen with ten power play goals. This might just be the stuff of fantasy at this stage, but who knows how the summer will play out. No matter what happens, the Rangers can only make so many splashy moves over the next couple of seasons. It's possible they might decide not to make any. But if they do, they'll need to choose wisely.