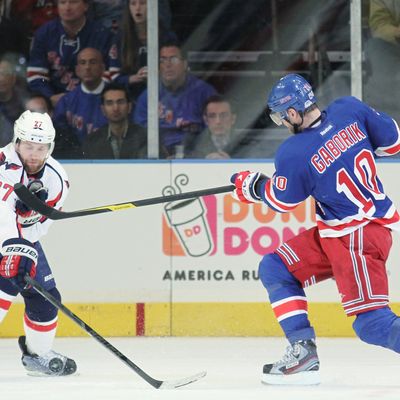 Marian Gaborik, in Game 1 against Washington.
It was impossible, following the Rangers triple-overtime victory over the Capitals on Wednesday night/Thursday morning, not to get caught up in the staggering numbers: longest Rangers game in 73 years, more than 53 minutes of ice time for Ryan McDonagh, and so on. It was the sort of game where we found ourselves thinking things like, "Well, at least Dan Girardi got to take a bit of a breather while he was having his face stitched up." But looking at the game in the context of the series as a whole, boy, was it nice to see Marian Gaborik, of all people, get the winner. Yes, that goal gave the Rangers a 2-1 series lead (and also allowed everyone to finally exhale and get some sleep). But one hopes it's also the goal that jump-starts Gaborik.
How Marian Gaborik has played during this postseason might be up for some debate — here's a game-by-game breakdown of his struggles, and here's someone making the case that he hasn't been all that bad — but this much is fact: The goal he scored to end Game 3 was his first since Game 1 of the opening round against Ottawa. Gaborik has contributed at times in other ways even as he's struggled to find space: He has five assists through ten games (three of them on the power play), and he's shown a willingness at times to play the body a little. But on a team that sometimes struggles to light the lamp, they can't afford their top goal-scorer to suffer through droughts like that in the playoffs.
So far, they've managed okay without Gaborik really hitting his offensive stride, and with Washington more committed than ever to focusing on defense — and with Braden Holtby settling down after a rough Game 1 — scoring won't be easy to come by. Brad Richards has been living up to his reputation as a strong playoff performer, but his linemate needs to up his game as well. Gaborik hasn't been a total disaster — even with only two goals, he's second on the team in scoring — but he's better than he's played. Plus, doesn't he want to make his G.M. happy like this again?
By the way, just a heads up, if tomorrow's game goes deep into overtime, the game might switch over at some point from NBC to the NBC Sports Network, because of the Kentucky Derby. Which makes sense, because as the saying goes, nothing beats the intensity of overtime playoff hockey, except for pregame coverage of a horse race.