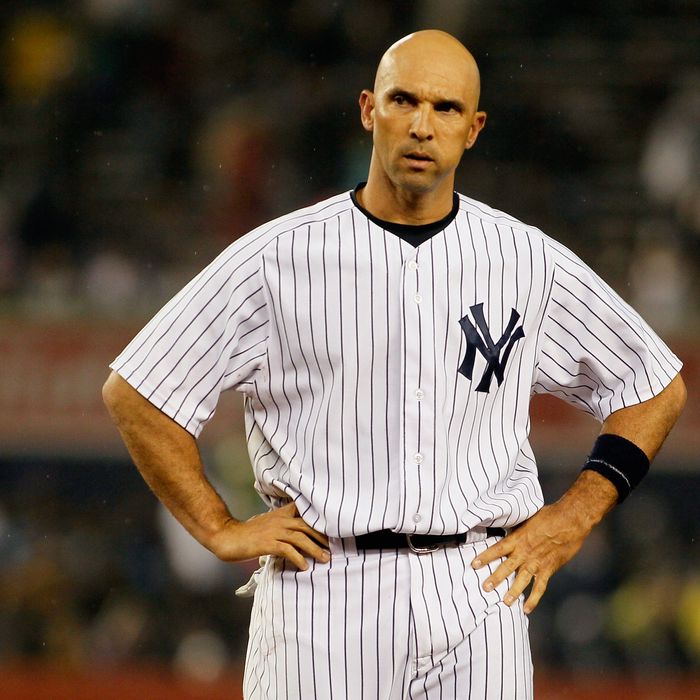 Well, technically, they're tied with Boston for last place in the American League East, but still, last night's 6-0 Yankees loss to Kansas City dropped their record to 21-21, their worst record through 42 games since 2008 and just the third time since 1996 that they haven't been above .500 at this point in the season. They've lost six out of their last seven games and are five-and-a-half games behind Baltimore in the division standings. (The current order in the AL East standings: Baltimore, Tampa Bay, Toronto, New York, Boston. Show us someone who predicted that, even after a quarter of the season, and we'll show you a liar.)
So, what went wrong this time? Well, some timely hitting would have helped: Down 3-0 in the third inning, for instance, the Yankees loaded the bases with nobody out, but Robinson Cano struck out, Alex Rodriguez did the same, and Raul Ibanez filed out to end the inning. On the night, they were 0-for-13 with runners in scoring position; via the AP, that's their most hitless at-bats in a game with runners in scoring position since 1990. This isn't the first time this team has struggled with men on base: Also via the AP, they're hitting just .222 as a team with runners in scoring position. With the bases loaded, they're batting just .189.
This was the fourth time the Yankees have been shut out this season, but their issues aren't confined to the lineup. Hiroki Kuroda continued to struggle in the first innings of games — last night, he allowed a homer to Mike Moustakas to give Kansas City an early 2-0 lead — and he wasn't especially efficient last night either, throwing 103 pitches in five-and-a-third innings. (His unspectacular line last night: Three earned runs, seven hits, four strikeouts, and three walks.) The Yankees bull pen would give up the final three runs in the 6-0 loss — Freddy Garcia served up a two-run homer to the first batter he faced in the seventh, and he allowed another run to score in the eighth on a wild pitch — and in case that all didn't combine to make the night miserable enough for Yankees fans, the game was played in some nasty weather. (There were plenty of empty seats last night. Or, as the blog It Is High, It Is Far, It Is…Caught put it, perhaps the first 30,000 fans were given a Harry Potter Invisibility Cloak.)
Look, it's May 22, and the Yankees won't always look quite as bad as they have over the past week or so. They'll have a stretch soon enough where they'll win a few games, and there will still be a hundred-plus games left, and suddenly the season won't seem so lost. But as others have already pointed out, this is a flawed team. Generally speaking, a 21-21 record isn't that bad: The Cardinals, for instance, are just two games better, and they're in first place. But even if Baltimore doesn't remain the best team in the American League all season, the AL East is a tough division, especially if Boston — winners of nine out of eleven — gets its act together. The Yankees still have 120 games remaining, so if this turns out to be rock bottom, they'll be fine. The problem is, the stretch they're in right now won't necessarily prove to be rock bottom.