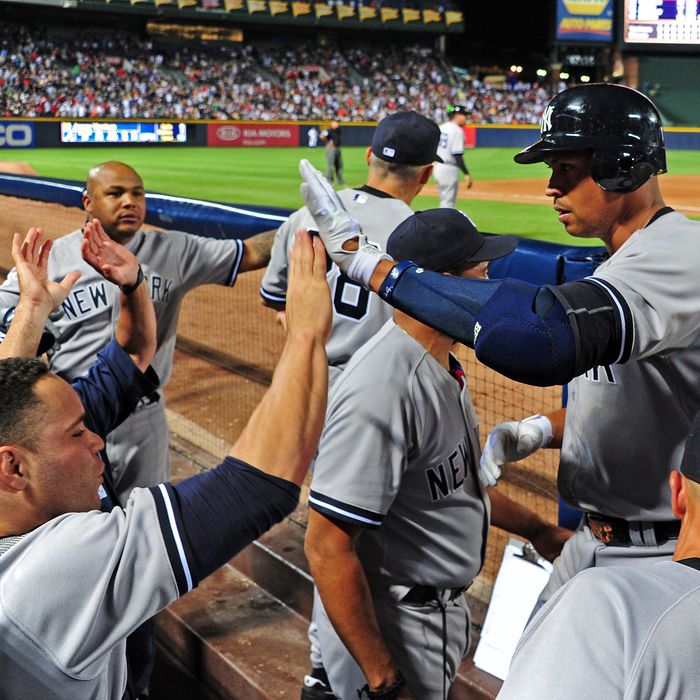 Alex Rodriguez after hitting his grand slam last night.
When Alex Rodriguez stepped to the plate in the eighth inning last night with his team down 4-0 to the Braves, the Yankees were batting a major-league-worst .149 with the bases loaded, but were tied for the league lead with four grand slams. A-Rod, especially, had struggled with the bags packed: He was just 1-for-10 in such situations this season.
But when a team is hot, things like this tend to happen: Rodriguez lined a grand slam over the left-field fence to tie the game, and two batters later, Nick Swisher hit a two-run shot to give the Yankees a 6-4 lead. The Yankees' bull pen would protect that lead, and they've now won five straight games, eight of their last nine, and fifteen out of nineteen. And thanks to some help from the Mets in St. Pete last night, the Yankees now sit alone atop the American League East standings.
A-Rod's homer was a historic one: With it, he tied Lou Gehrig's all-time record of 23 grand slams. (The New York Post back page this morning, however, was a total disappointment. "Gehr-Rod" is quite the stretch.) The Yankees had been held scoreless by Atlanta's Mike Minor, and that was something of a minor miracle (sorry) considering how many home runs he's allowed this year and how many the Yankees have hit as a team. But they'd get to the Atlanta bull pen in the eighth and turned a loss for starter CC Sabathia into a win. (This is the kind of game you can point to when trying to explain why wins and losses don't matter for pitchers. Sabathia left the mound after the seventh on the hook for a loss, but thanks to things that happened while he sat and watched, he became the winning pitcher.) Perhaps the Yankees don't want to be quite so reliant on home runs, but no matter how they're doing it, this much is clear: The wins are starting to pile up.