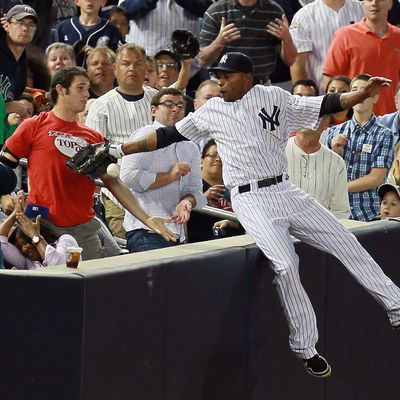 Yeah, that's not a catch.
First of all, the Yankees won last night. Phil Hughes got back on track and withstood a rough patch or two to pitch eight shutout innings, the Yankees stepped up their RISP game and hit 4-8 with men on (six runs and only one homer!), and New York escaped a near-calamitous ninth inning stint from Cory Wade to beat the Indians 6-4. New York will have a chance to complete the sweep this afternoon. Of course, none of the above is drawing much attention today. The bit getting talked about is a moment of fairly impressive umpire ineptitude.
In the seventh inning, with a man on third, two outs, and the Yankees up 4-0, Cleveland's Jack Hannahan hit a pop-up toward the third base line. Dewayne Wise chugged over from left field, slowed as he neared the close, knee-high wall, and tumbled head first into the stands while making a spectacular third out. You can see it all here:
An amazing grab! Right in front of Derek Jeter on his birthday, too! Imitation is the sincerest form of gift-giving! Great stuff. One minor quibble, though: Wise didn't catch the ball. Not even a little bit. As you can see in the video, third base umpire Mike Dimuro, perhaps a bit caught up in the moment, blew that call on more than one level. He called Hannahan out without asking Wise to open his (empty) glove, failed to notice the cheerful gentleman holding the ball aloft just a few feet to his left, then he went ahead and ejected Hannahan for arguing in the following inning. Wise, to his credit, didn't oversell the play. He just hopped out of the stands, glove closed, and hustled out of the fray as quickly as possible. It'd have been admirable if Wise had confessed (and perhaps even more embarrassing for Dimuro), but I suppose it's his job to make the plays (or try to), not the calls. The man who did make the call sheepishly admitted his error after the game.
This little incident will be thrust into the long-running, weirdly moral debate about instant replay in baseball, but we'll leave that to someone else. Mostly, it's just funny.