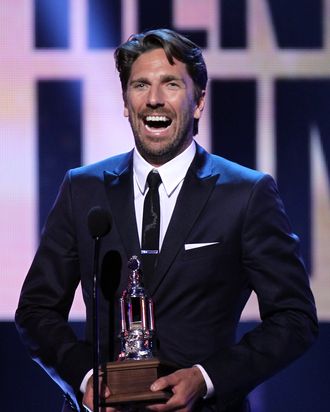 At the beginning of last night's NHL Awards in Las Vegas, Matthew Perry joked to Kings goalie Jonathan Quick that the show was being broadcast on a seven-second delay. Quick, of course, dropped a few F-bombs during a Stanley Cup victory celebration at the Staples Center last week while TV cameras were broadcasting live. But Quick didn't give any acceptance speeches last night: As expected, he lost the Vezina to Henrik Lundqvist, who won the award for the first time in his fourth year as a finalist. But as Quick watched from his seat, it was the Rangers goalie who worked blue, albeit accidentally, when he said the word "fuck" to himself while delivering his remarks.
Here's Lundqvist, who presumably got a little too used to being followed around by pay-cable HBO:
There weren't any surprises in the other categories in which Rangers were nominated: Lundqvist lost the Hart and Lindsay awards to Evgeni Malkin, John Tortorella lost the Adams to Ken Hitchcock, and Ryan Callahan lost the Messier Leadership Award to Shane Doan.
Meanwhile, in the intentionally funny video department, we direct your attention to these skits in which Will Arnett parodies Brendan Shanahan's supplemental discipline videos. Here's the first one, but you can check out all four here.
Gob as Shanny? Yes, please.