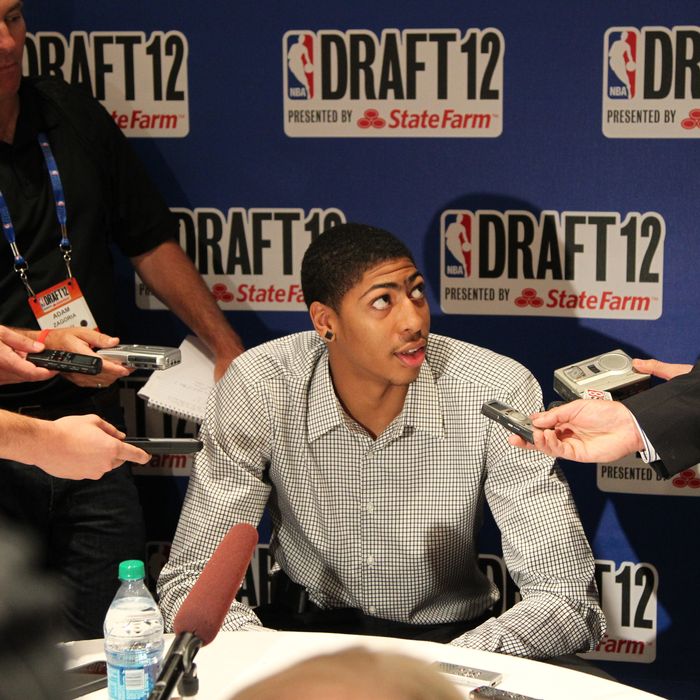 Anthony Davis is the only sure thing tonight.
We are but hours away from the beginning of the NBA Draft in Newark. The New Orleans Hornets will draft Anthony Davis, the towering mantis-person who led the dominant Kentucky team this past season. After that, nobody has a clue. Seriously. Guys like Florida's Bradley Beal, Kansas's Thomas Robinson, and UNC's Harrison Barnes are expected to go somewhere in the top five, with a relatively deep list of prospects (including quite a few more Kentucky guys — thanks, Cal!) left over. It's totally up in the air after the first pick, though. Every selection up to number two has been included in trade rumors over the last couple of days, and a few picks have already changed hands (most ending up in Daryl Morey's greasy meat hooks). I've never understood why so many trades are left until draft day itself, but it always works that way and appears to be headed that direction again tonight. Not just draft picks but some prominent NBA veterans — Pau Gasol, Josh Smith, even Dwight Howard — could change teams this evening. Anything can happen. You might get traded. Keep your phone on.
Yesterday, Will covered some possible selections for the Knicks and Nets, both of whom are stuck late in the second round after trading away this year's first-round picks. But what about the possibility of either club participating in the trade madness?
For the Knicks, it's unlikely but not out of the question. They can't "buy" a first-rounder like they have in previous years because of assets lost in the Tyson Chandler deal. Trading for a first-rounder is almost as unlikely, unless some team is really desperate to save money and avoid committing to a guaranteed contract. However, trading up to an earlier pick in the second round is a possibility if there's someone the Knicks really covet. Alan Hahn suggests that there are a few guards (New York's foremost area of need) of interest that might warrant a small trade. My guess is that they'll do nothing, sit tight, and see who falls to them at 48.
The Nets, meanwhile, could be more active. They've got much more space with which to work, and also intentionally held onto that $3 million trade chip that the Knicks no longer own. Billy King was understandably vague when asked about trading into the first round, but made it sound like a move was possible if the right guy dropped to a suitable trade partner.
And that's what's up. It shall be another night of uncertainty and surprise. Three related pieces of advice if you're following along: 1. Almost all of the trades will be reported by guys like Adrian Wojnarowski, Marc Stein, and Jonathan Givony on Twitter well before David Stern announces them. 2. Those guys will also occasionally leak the picks in advance, which kind of ruins it. 3. There are fake accounts like @WojYahoooNBA out there that have been fooling people all week. Be vigilant. Enjoy!