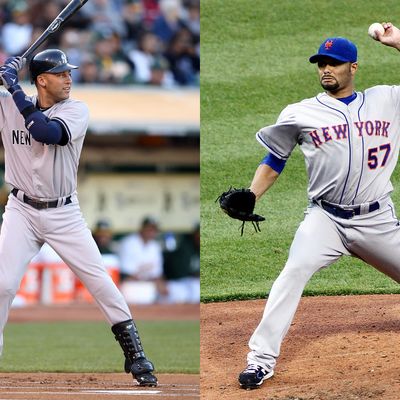 The Subway Series totally isn't a big deal. The Yankees, in particular, have made that perfectly clear. The repetition over the years and the fact that the two teams now play six games per season has guys like Andy Pettitte and Curtis Granderson saying stuff like "it means more to the fans than it does to us" and "it's not as exciting as it has been in the past." Fine. There's not much of a rivalry anymore. The 2000 World Series is fading into the past and the increased density of inter-league games has diluted some of the matchup's novelty. (Random suggestion: Schedule an odd number of games, bring back the Mayor's Trophy, and give it to the winner of the season series.) That said, as Subway Series go, this weekend's at Yankee Stadium promises to be a pretty exciting, meaningful one.
To begin with, both the Mets and Yankees are in relatively solid shape. This series isn't always evenly matched, historically (the Yankees hold the regular season edge 49-35), so for the teams to come in with nearly identical records and clear, parallel goals in sight is a treat. The 31-25 Yankees are just half a game behind Tampa Bay and Baltimore in the AL East, and the 32-26 Mets are just a game and a half out of Washington's NL East lead. So, it's not out of the question for a dominant series one way or the other to propel one club to the top of its division.
And, of course, there are subplots in play, starting with this evening's game. Tonight marks Johan Santana's first start — after an extended rest — since that no-hitter thing he did last week. He tossed a career-high 134 pitches in that one, but has had a full week of rest since, so everyone's super curious to see how he looks in the follow-up outing. Santana's opponent tonight, Hiroki Kuroda, has been pretty solid as well in his recent starts, though he's given up some hits in each one of them, so whatever. The subsequent matchups of like-handed pitchers — Dillon Gee versus Phil Hughes and Jonathon Niese versus Andy Pettitte — could get interesting as well, though it's a shame the Yankees won't have to hit against R.A. Dickey this time around.
Also of note: Jason Bay is finally expected to return tonight, so this series marks his first opportunity to get back on track in earnest. His comeback creates a bit of an outfield logjam, so keep an eye on how things get shuffled around throughout the weekend.
So, perhaps the Subway Series has lost a bit of its inherent intrigue. Thankfully, the Mets and Yankees have furnished some intrigue of their own heading into the weekend.