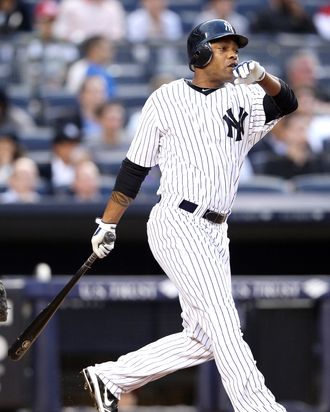 So, the Yankees cruised to a victory over Cleveland last night, and Dewayne Wise, making a rare start, had a big night, going 2-for-3 with a homer and a triple. That home run was his first as a Yankee, meaning John Sterling finally got to unveil Wise's personalized home run call: "That's a very Wise man." This is not Sterling's best catchphrase work, people.
Granted, Sterling might not have expected Wise to go deep very often — he'd hit all of seven home runs from 2009 through 2011 — and some Yankees bench players don't get a personalized call at all. We're less than two years removed from his landmark Lance Berkman call — an elaborate one that involved a Broadway lyric with French words tweaked to better fit the situation. But "That's a very Wise man"? Just unacceptable, especially in a contract year for Sterling. (Obviously, he's paid based on the quality of his catchphrases, right?) We'd go so far as to say that this is Sterling's biggest swing-and-a-miss since the "Jesus is loose" debacle of September 2011.
Feel free to suggest your own calls in the comments section. Personally, we were hoping that Sterling, doing his best Bobby Bacala impression, would go with something like, "Fugetaboutit, the Wise guy just whacked one into the right-center field seats!" Undoubtedly you can top that, below.