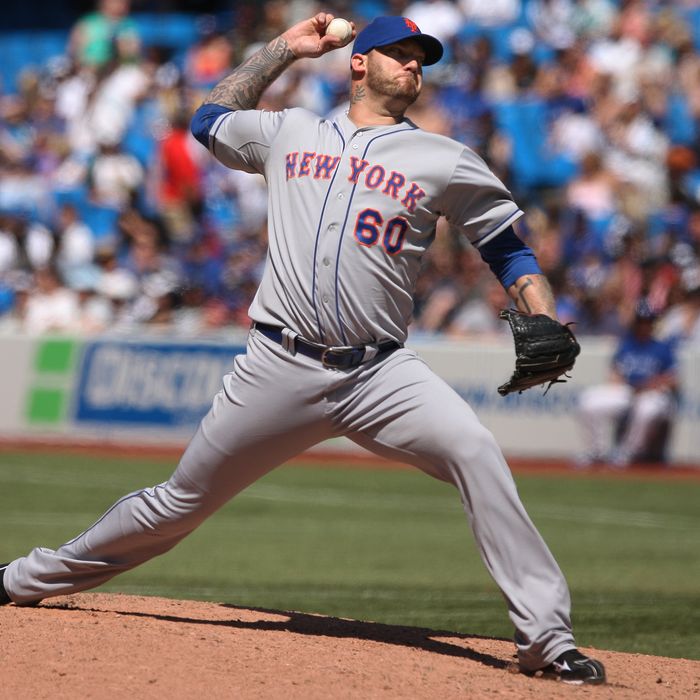 The Mets' sweep-clinching collapse yesterday against the Yankees certainly wasn't Jon Rauch's fault alone. As Joe pointed out earlier, Jonathon Niese and Bobby Parnell gave up the runs that invited the Yankees back into the game, and the Mets' defense made some crucial mistakes as well. It was Rauch, though, who surrendered Russell Martin's blast of a walk-off homer, and Rauch who furiously shouldered the blame after the fact:
"Were you guys watching the game or no?" Rauch said. "Martin (expletive) hit it a mile. And I cost us the game. I made a couple good pitches and hung one, and he hit the —- out of it.

"I'm out there to get the guys out," he added, "historically I've been pretty good at it, but I've been pretty horse—- this year. … It pisses me off I'm not doing my job."
So, yeah, Rauch took the breakdown pretty hard. The guy was feeling pretty down on himself. No need to rub it in, right?
Yeah, no such luck. Public failings by Twitter-subscribed athletes are like rotting meat for the social medium's grimiest users. Rauch (@jrauch60) was the target of all kinds of vile malevolence from his followers and, like plenty of public figures before him (J.R. Smith of the Knicks comes to mind), decided to cope with the hatred by broadcasting it. Rauch spent all afternoon retweeting the hideous things people said to him, and is actually still sharing stuff as I write this. It's the usual trash (haters aren't known for their creativity): folks demanding that he retire, suggesting that he kill himself, and calling him every awful name in the book. My favorite is definitely the guy with "lets stop the way we treat each other and love one another" in his profile who told Rauch he "throws like a fag," among other sweet nothings. Good job, everybody! I'm sure you'd be just as brash if you ever encountered this 6'11", 250 pound, heavily tattooed individual in person!
Thankfully, according to Rauch, there's been more support and level-headed criticism than abject vitriol (and more of the former since he started retweeting the latter), but this is yet another example of how being a famous person on Twitter is fun and rewarding … until you dare struggle.