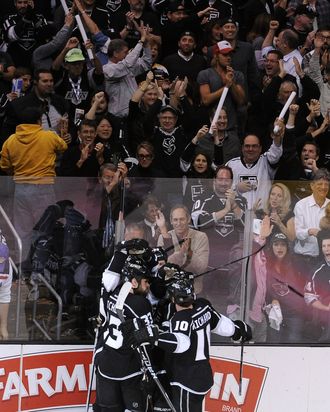 Not pictured, but in attendance last night: Joshua Jackson, a.k.a., Charlie Conway.
So, the Kings blanked the Devils, 4-0, in Game 3 of the Stanley Cup Final last night, and they're now just one win away from sweeping New Jersey and capturing the franchise's first Stanley Cup. Even in a league with so much parity among the playoff teams, it's incredible that an eight seed could be one win away from a championship. And the way the Kings have steamrolled their way through these playoffs has been downright historic: This is the fourth-straight series in which they've taken a 3-0 lead, and if they win Game 4 on Wednesday night, they'd match the run of 1988 Oilers, who set the modern record by going 16-2 en route to their fourth Cup in five years.
How dominant have the Kings been? They've still played three fewer games than the Rangers, who, we'll remind you, were eliminated in the Conference Finals. Games 1 and 2 of this Final were hardly blowouts — both of those games ended in overtime, in fact — but last night was the kind of statement game that gives you the impression that it didn't much matter which team the Eastern Conference sent to the Final. The Kings have just been that good.
And, of course, much of the credit goes to Jonathan Quick, the inevitable Conn Smythe winner (sorry, Anze), who, last night, recorded his third shutout of the playoffs. He lowered his postseason goals against average to a ridiculous 1.36 last night, and his .950 save percentage is the best of any goalie with more than three games played in these playoffs. Those are some historically good numbers. Puck Daddy has compiled Quick's five best saves of the night, and we'll note that the majority of those came when the outcome of the game was still in doubt. Quick wasn't the only reason Los Angeles won last night — that game might have looked different if the New Jersey power play could have done anything —but he's the biggest reason they are where they are right now.
Having said all of that, the Kings still need one more victory to close this series out, and as the old saying goes, the hardest game to win is the last one. And if we've learned anything about the Devils in these playoffs, it's that they're a resilient team. Maybe Ilya Kovalchuk, who insists that his back is fine, will start producing. But the way Quick and his teammates are playing, the Kings' coronation seems almost inevitable, doesn't it?