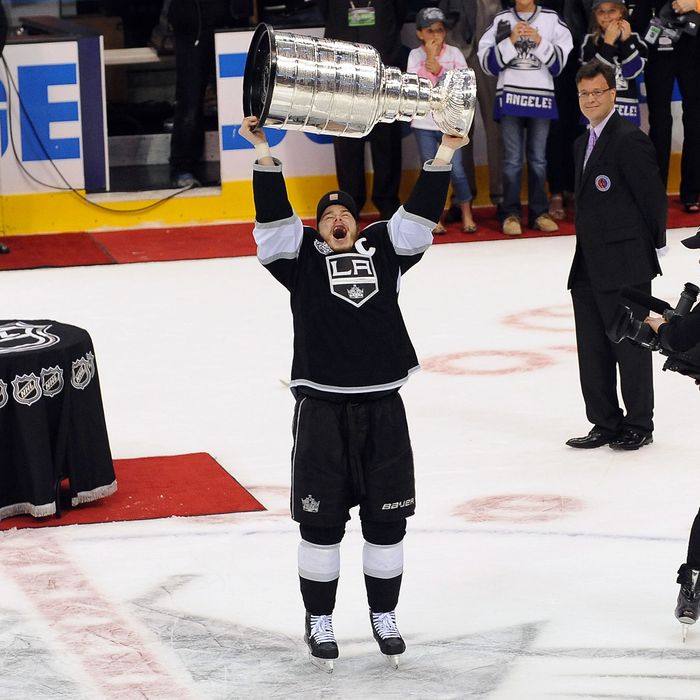 Even as we were writing the line in yesterday's Stanley Cup Final post about the Devils' momentum, we understood that momentum hasn't actually meant that much in these playoffs. Indeed, if it did, the New Jersey might not have gotten out of the first round. And so, while the Devils had won back-to-back elimination games to stay alive, last night was all Los Angeles, as the Kings cruised to a 6-1 victory to capture the first Stanley Cup in franchise history.
It's not hard to pick out the turning point in the final game: After Steve Bernier was given a five-minute major (and kicked out of the game) for boarding Rob Scuderi, the Kings scored three power-play goals to seize control. (The seconds leading up to the Bernier hit also gave us the game's big controversy: Jarret Stoll had hit Stephen Gionta from behind earlier in that shift, but it went unpenalized. Peter DeBoer was furious, and after the game, he basically said that he'd let the Kings have the spotlight, but would give his thoughts on the hit in due time. Via Puck Daddy: "If you want to ask me about that in about a week, I'll give you my honest opinion on it.") As for Bernier, well, it was a busy night for his Wikipedia page.
The Kings would add a fourth goal in the second period, and up 4-1 in the closing minutes, would add an empty netter and then one final goal on Martin Brodeur, who said after the game, by the way, that he wants to play next season. But by the time the Kings tacked on those two goals, the game — and the series — wasn't really in doubt any longer. And just like after Game 3, we were left with the feeling that it probably didn't matter which team came out of the Eastern Conference this year. The Kings — who we'll remind you, entered these playoffs as a No. 8 seed — were simply too good, getting hot at the right time and firing pretty much on all cylinders for two whole months. The idea that this is a potential dynasty in the making is already being thrown around, mostly because of team's young core. But for now, in June 2012, let's appreciate this for what it is: one of the most impressive postseason runs in league history.
As for the Devils, they've got an important off-season coming up, as captain Zach Parise can become a free agent on July 1. But in the meantime, even this Rangers fan can admit they had a hell of a run, though we'll also admit we enjoyed the way that Game 6 played out. Actually, Rangers fans can relate to Devils fans in one specific way these days: Just like Rangers fans can wonder how things might have gone differently if Marian Gaborik wasn't hurt during his team's run, Devils fans can wonder how the Final would have gone if Ilya Kovalchuk was operating at 100 percent. Kovalchuk, for what it's worth, didn't want to discuss his back after the game. From the Bergen Record: "It doesn't make any sense to talk about it now. It's all over. We've got a long summer to heal everything and be ready for next year."