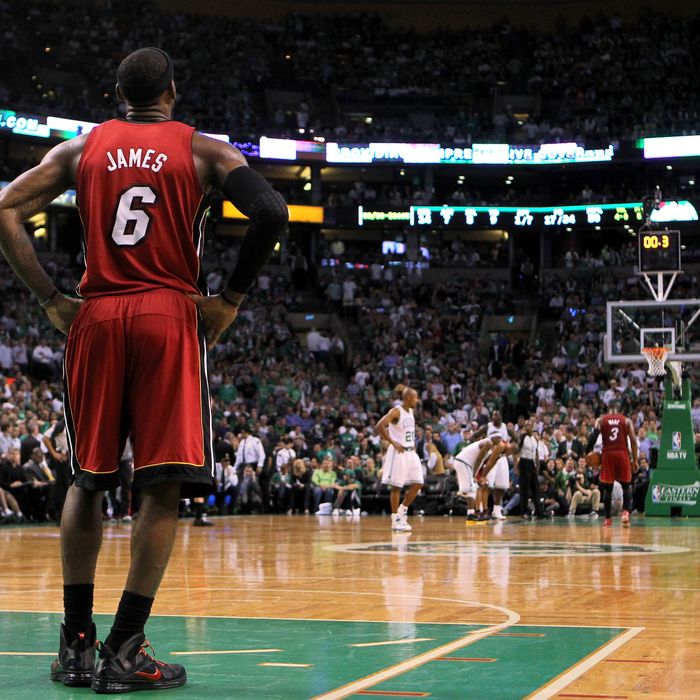 Dude, he's WIDE OPEN! Guard him!
In a typically insightful and gently intelligent post on Wednesday, Joe Posnanski — of that mysterious  upcoming "Project X" business with Gannett and MLB Advanced Media — wrote that LeBron James might be one of those hypergeniuses who doesn't turn it on all the time because it requires him to go to a dark, scary lonely place. (It's just a theory, but we like this part: "I imagine it to be a place where nothing else matters, where no one else matters, where there is one overpowering goal and that goal drives every action, ever move, every inspiration.") Posnanski argues that LeBron doesn't go there all the time — doesn't dominate all the time — because he's not a dark person; he wants to laugh and smile and just have fun, and going the Full Jordan just doesn't suit his personality. It requires extraordinary effort to reach that singular focus, and it can be a terrifying thing. Well, last night, LeBron must have had images of torture chambers and flaming kittens on his brain, because he found that dark place, he dominated, and it was terrifying.
James pretty much put together the performance of a lifetime in Game 6 against the Celtics last night, scoring 45 points on 19-of-26 shooting, grabbing fifteen rebounds and even notching a third of his team's assists in a 98-79 wipeout of Boston. Had he not been so completely dominating in every possible way for the first three quarters, he probably would have scored 50 (or more). Hating LeBron is something fans do more out of instinct than reason anymore — which is far from saying hating LeBron (the athlete, the personality, not the person) is anything that's wrong — but it was impossible not to salute him last night, even while recognizing (and fearing) that if he does that again, no one's touching the Heat.
As we joked on Twitter, LeBron is doing this by himself, just like he did in Cleveland. He could have saved us all a lot of trouble by never leaving. After the game, Dwyane Wade, who wasn't much help at all until the fourth quarter when everything was already decided, said LeBron was "as locked in as I'd ever seen him." And he, like the rest of us, was just watching. The Celtics looked bewildered; they looked like they forgot to duck.
Of course, now that LeBron has done this, he has to keep doing it. The curse of being LeBron is that once everyone realizes you can win games entirely by yourself, they get angry on those nights that you don't and think you're not trying. Hence, that dark place. As complete a devastation as LeBron's performance was, there is still one more game in this series, and if LeBron doesn't do this again — or, worse, if the Heat actually lose — it will be as if this game never happened. It's not fair, but it's what everybody signed up for. Game 7 is at 8:30 on Saturday night. If LeBron does this again Saturday, no one will ever question him again, at least for a couple of days.