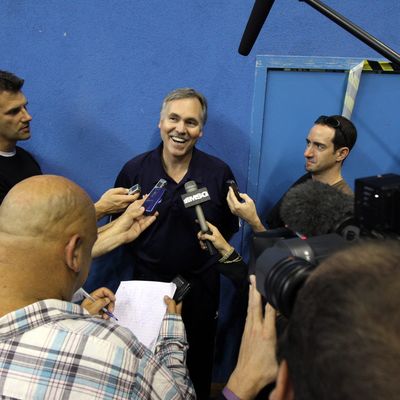 Howard Beck, interviewing former Knicks coach Mike D'Antoni.
If you follow the Knicks closely, you know that the Knicks beat can be dicey. It's a huge group of reporters competing to cover a team that is notoriously troubled and notoriously unwelcoming to the media. Those circumstances, combined with the massive market for Knicks reporting, has made for a lot more rivalry and shaky reporting than you find in other NBA locales. All of this only helps you appreciate the work of Howard Beck. Beck, a California guy who covered the Lakers through their championship years in the early 2000s, joined the New York Times in 2004 and has been one of the most talented, reliable reporters covering the Knicks — not always a talented or reliable subject — since then. Cool guy, too.
Beck's a Brooklyn guy now, and with the Nets moving over there and bound to generate a lot of news in the near future, it only makes sense for him to change beats. The news was broken by Nets PR guy Gary Sussman, spread by Nets Daily, and confirmed by Beck himself this afternoon. It's not unusual for guys in this market to switch beats within the same paper — Al Iannazzone of Newsday turned his attention from the Nets to the Knicks this past season — but this one feels particularly big. The Nets, as long as they're making the right kind of news, should be pleased to have a reporter of Beck's caliber around. In any event, it is perhaps a sign of Brooklyn's impending relevance to see such a prominent reporter changing things up to cover them. Or maybe it was just smart of them to move to the borough in which roughly 95 percent of the professional writers on the planet reside.
In related news from the same stories, Tim Bontemps will be taking over Fred Kerber's Nets coverage at the Post, and Beck's replacement on the Times Knicks beat will be newcomer Nate Taylor.