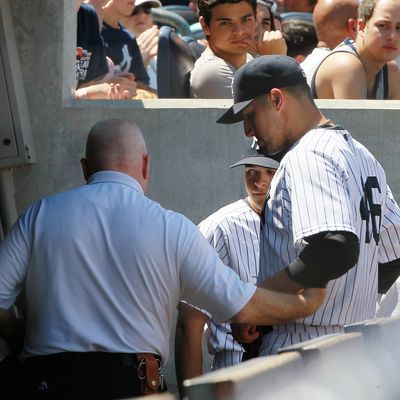 Andy Pettitte, departing after fracturing his left ankle.
The good news is that the Yankees just won to complete their sweep of the Indians. The bad news is that Andy Pettitte is done for a little while. Pettitte took a comebacker to the ankle in the fifth inning. He looked more annoyed than injured and tried to stay in the game, but he was forced to depart soon thereafter. Yankees fans feared the worst, and they got it. From Mark Hale of the Post:
BREAKING – Pettitte broke his left ankle, Yankees say. Being put in a boot. No surgery. Will be out at least six weeks. ‪#yankees
It could be worse, but with the news arriving just hours ago that CC Sabathia and his strained groin are going to miss a few starts, this has not been a pleasant day for the New York pitching staff. Freddy Garcia is already slated to pitch on Friday, and don't be surprised to see Adam Warren called up from Scranton and hustled right into the rotation by next week. Or maybe a trade or something.