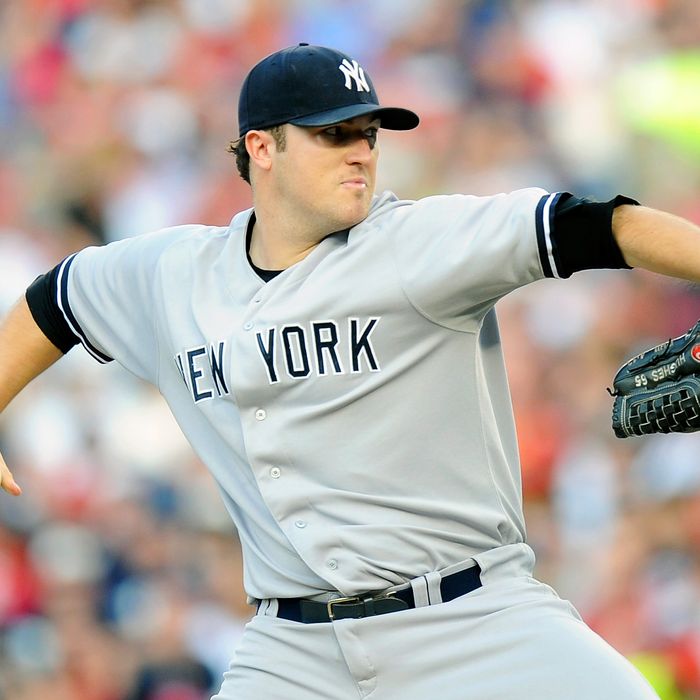 The Yankees' winning streak ended at ten games last night with a loss to Atlanta. It was bound to end sooner or later, and baseball fans (and players  and coaches and executives) all surely know the team isn't quite as good as it looks when it's on a long winning streak or even three weeks into a red-hot month. And so, in an interview before yesterday's game, Cashman was asked about his rotation, which has pitched so well of late. Said the G.M.: "Is that a strength? Will it need to be reinforced? I'm not willing to make that call yet."
Here's the thing, though: Barring injury, there are only so many moves to be made. CC Sabathia's job, obviously, is safe. Hiroki Kuroda has been brilliant at times and something less than brilliant at others, but it's unlikely he'd be removed from the rotation. Ivan Nova lost his starting job last year to open up a spot in the rotation, but one would think he's done enough, between last season and this season, to at least remain one of the five starters. (Perhaps he's benefited from some good luck, but he hasn't been so unreliable that he should be in danger of losing his job altogether.) Andy Pettitte, meanwhile, didn't return to the team to do anything but start, not that he's given them much reason to worry.
Even if Cashman has some concerns about some of these four pitchers, we can't imagine him doing much about it. Kuroda could be inconsistent, and Nova's luck could change, and Pettitte could pitch like the 40-year-old that he is, but those four spots in the rotation are pretty secure, especially since Freddy Garcia was demoted to the bull pen earlier this year.
All of this, then, brings us to Phil Hughes. After a disappointing 2011 season, the righty got off to a shaky start in 2012, and though the Yankees said that they intended to keep him in the rotation, he appeared to be doing his best to pitch himself out of it. And between the team's two twentysomething starters, he'd have been likely to lose his starting job before Nova, considering his longer track record of inconsistency. (Nova, you'll recall, had a solid 2011 season, finishing fourth in the Rookie of the Year voting.) Which is to say, not only was Hughes the biggest question mark in the rotation, he was the one they were most likely to do something about, if it came to that.
Of course, it hasn't come to that: Hughes has been much better so far in June, posting a 1.69 ERA over his first three starts. But when Cashman talks about not being ready to make the call about whether the rotation needs to be reinforced, one wonders how much he means he's not quite ready to make the call on whether Hughes can be relied on.
There are other things in play here: As Cashman knows firsthand, a team can never have too much starting pitching, if only to protect against injuries. It's why someone like Bartolo Colón was so valuable last year: He didn't start the season in the rotation, but was an important part of that team until he lost steam towards the end of the year. Garcia, or, say, David Phelps (who's currently being stretched out in the minors) could take the ball in an emergency, but if Cashman has reason to believe he needs something a bit more permanent than that, the type of pitcher he'd be in the market for could change. Surely Cashman also knows that Kuroda's signed to just a one-year contact (and is 37 years old), while Pettitte's future beyond this year isn't clear at this time. Cashman is always evaluating his rotation and understands that it can probably always be better. But even looking just at 2012, the performance of Hughes (who's pitching this afternoon against the Braves) will go a long way towards determining how confident Cashman is in this rotation and towards determining how motivated the G.M. is to make a move that could alter its makeup.