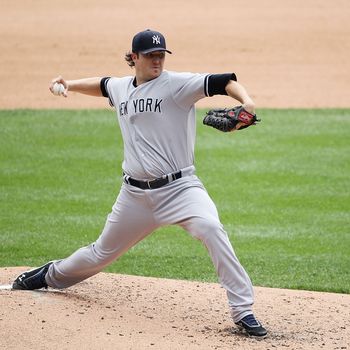 On a list of unexpected local baseball stories from this weekend, "Met Pitches No-Hitter" would surely be No. 1. But "Phil Hughes Outduels Justin Verlander" is a strong second. Is there a more maddening Yankee than Hughes? After a disappointing 2011 season, the righty started 2012 by posting an ERA of 7.88 in April. After showing signs of improvement in May, he got rocked in Anaheim last week in his last start of the month. Then yesterday, he threw a complete-game four-hitter against the Tigers in a 5-1 Yankees win, the first time he'd gone nine innings in his career. Go figure.
That's what's so frustrating with Hughes: We know he's capable of days like yesterday, but he's not nearly consistent enough. It doesn't help that his lows can be especially low: the outing in Anaheim last week, for instance, or his April 25 start against Texas in which he lasted just two-and-two-thirds innings. But yesterday, he relied heavily on his fastball and maintained command on the pitch. The result: He outpitched Verlander, the reigning Cy Young winner whose day got off to a rocky start when he allowed a home run to Derek Jeter on the first pitch he threw.
The win closes out a strong road trip for the Yankees: They return home after going 6-3 in Oakland, Anaheim, and Detroit, and they remain right in the thick of things in a ridiculous American League East. They trail the first-place Rays by a game-and-a-half, and they're a half-game behind the second-place Orioles. But in a division in which the difference between first and last is just three games, they're also just a game-and-a-half ahead of Toronto and Boston, who share identical 28-26 records.
Which isn't to say that the Yankees shouldn't have some concerns: Their struggles with men on base have been well-documented. But they can boast the best run differential in the AL East, even if it's just a hair better than two of their division rivals. And speaking of division rivals, the Yankees have an off-day today, but tomorrow they'll kick off a three-game set with those first-place Rays. Their schedule is about to get more difficult: After the Rays, they'll play fifteen straight games against teams from the equally ridiculous National League East, all of which are against teams currently over .500.