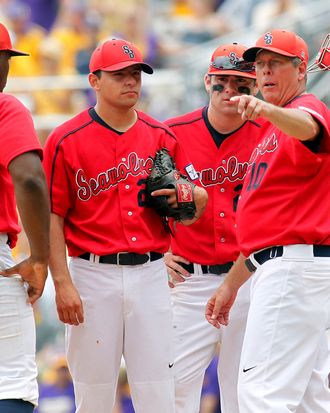 Today, Long Island's Stony Brook Seawolves take on UCLA to kick off the eight-team College World Series. Stony Brook is playing the role of Cinderella in Omaha: They won their four-team regional as a No. 4 seed, then toppled LSU in the Super Regional round. (The team's adopted motto: "Shock the world.") Head coach Matt Senk is in his 22nd year at Stony Brook and has guided the team as it's risen from Division III to Division I over the past two decades. Earlier this week, before leaving for Omaha, Senk spoke with The Sports Section about the team's preseason goal, coaching college baseball in the Northeast, and looking for inspiration from some of the great underdogs in sports history.
When the season starts, do you set a goal for how far you want this team to go? As in, we want to get to Omaha, or we want to at least reach the NCAA Tournament, or something like that?
Yes, we do. The goal that we set every year is we want to play well enough in conference to get to our conference tournament. Then, what that does, it gives us the opportunity to win a conference championship, which comes with an automatic qualifier to the NCAA Tournament. We've won the conference tournament two of the last three years and three of the last five, we've been to NCAA Regionals, and now that we've gotten a little bit more familiar with what a Regional entails, then we started setting the goal of going as deep in the Regionals as we can and hopefully winning one. And we finally broke through this year. And then, of course, once you've done that, it's on to a Super Regional, and we continued to play well, and we won a Super Regional, which is a lofty goal of ours but still a goal, and now we're heading to the College World Series. That's kind of how it all sets itself up.
How difficult is it, as a team in the Northeast, to compete with some of the teams in warm-weather climates?
There are things you can control and things you can't control, and we can't control the weather. So if we're running into a recruit that we would love to have come to Stony Brook to get his education and to play in a successful baseball program, and he's all about warm weather, then we're going to have a problem. But the NCAA rule changes a couple years ago have really — I think we're starting to see the effects of that, leveling the playing field because there are uniform starting times in the spring for practice, for when games can be played. Now you have the same transfer rule as basketball and football, so a player can't say, you know, What the heck, I'll give it a try and go down South, and try and play at an ACC school or a Southeastern Conference school, and if it doesn't work out, I'll just transfer back. That doesn't happen any longer, the 35-man roster, where schools used to stockpile players — a lot of whom were players from up here. So, all of those rule changes, I think, have helped to even the playing field as well.
You played LSU in Louisiana, and there were two Florida teams, including Miami, in your Regional. Is it nice to finally play at a real neutral site?
Well, we knew what we were getting into. Again, that familiarity with going to a Regional. We've always played the host school in those Regionals, and what we have come to understand is that's something to embrace. So we actually embraced the fact that we were playing Miami that first night and playing in Coral Gables at Alex Rodriguez Park. And then to go into Alex Box Stadium and their rabid fans and being called Tiger bait and 11,000 people yelling and that storied program — you know, those are things that, again, we kind of embraced and made it a positive. Now, that being said, it will be fun to go to Omaha, and hopefully we've gotten some people to jump on the Stony Brook bandwagon and root for us, and we're looking forward to seeing what that's going to be like.
The last few days must have been a whirlwind. Was there any one thing that stood out and felt totally surreal, be it seeing Stony Brook baseball lead SportsCenter, or anything else?
There's been a lot of things, but I think the one thing that stood out the most was — again, LSU coach [Paul] Mainieri is a such a class act. Their entire operation down there — after going there, there is no surprise why they're so successful in so many of their sports, why they're considered an athletic program and a university that's first-class and playing for national championships. When our guys ran out and dog piled, it was the LSU fans who root like heck — I mean, there's no better home fans in the country than LSU fans for their teams — and their fans, after the game, encouraged our players to kind of go around the field and shake hands, and as hard fought as that game was, and even as disappointed as they were for their team, they were great to us and supportive to us, and to see a visiting team running around Alex Box Stadium shaking hands with fans and them wishing us good luck was absolutely amazing.
Joe Nathan played for Stony Brook, and he's been supportive of the program. Have you spoken to him since the Super Regionals?
Joe and I haven't had any direct contact as far as speaking on the phone or anything like that, but Joe and I have communicated back and forth via text. Also, Joe's wife has been great. Even though she's not a Stony Brook alum, she has become as big a fan of Stony Brook as Joe is, and so we are communicating. And how awesome is Joe? So many media people are reaching out to him, and he's a gentleman and gracious and just a huge Stony Brook supporter, and I can't be more thankful for what Joe has done and continues to do for Stony Brook, especially our baseball program. But also, how cool is it that he's got his Texas Rangers teammates rooting for us now, too? And so, it's great what he is doing, and it's a lot of fun.
Be honest: As someone who's been at the school for so long, is this run more satisfying for you than it is for the players?
Well, I think that it's equally satisfying on the baseball level. With this team, we tell every team that we deal with — every year it's a different team, through graduation, through guys getting drafted, through new guys coming in, so this team is unique to itself. So, from the baseball point of view, we're enjoying this all at the same level. But yeah, the players always stay the same age, and I get a year older and hopefully a year wiser. So my perspective is a little bit different and clearly from someone who's been here for over two decades. You know, it's got its own rewards coming from that sort of perspective.
Are there lessons to be learned from Fresno State's run a couple year back when they won the title as a No. 4 seed?
I think that we're looking to point to any example of a team trying to accomplish what they accomplished. You know, in the sport of college baseball, that's it. There it is. All the comparisons are there between Fresno State and us, and so hey, you don't have to look any further than them to know that it can be done. And then, you cross over into other sports and great stories: you know, Villanova over Georgetown and above my desk, to me, when I was their age, when the Olympic team beat the Russians in the 1980 Olympics. That to me was one of the most amazing things that I've ever seen in athletics, and I have the Sports Illustrated picture of the celebration over the Russians over my desk, and it's been hanging there for a long, long time. So we certainly have a lot of great runs by teams to draw comparisons to.