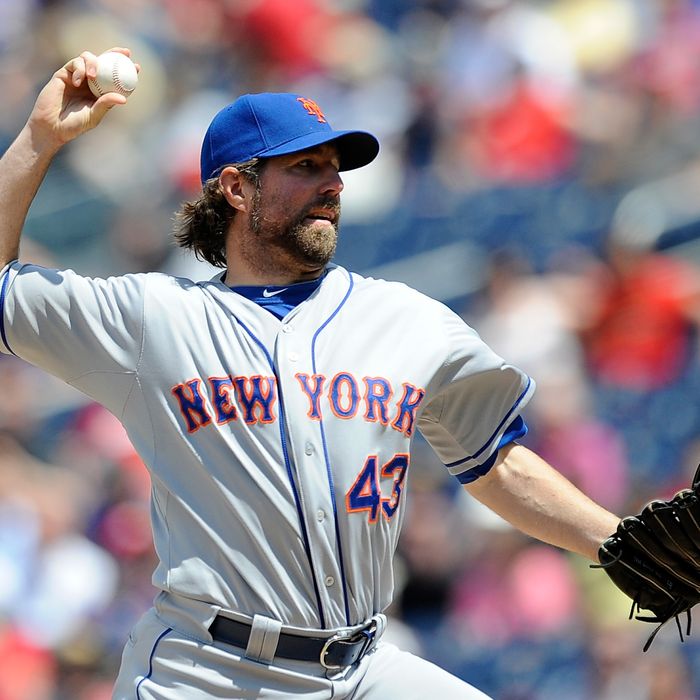 With R.A. Dickey on the mound, the Mets had to fancy their chances of averting the sweep today in Washington D.C. Sure enough, Dickey totally outpitched Chien-Ming Wang in his start (Yes, the starters today were Dickey and Wang. Their surnames are both fun penis words.), blanking the Nationals in his 7 1/3 innings. Dickey departed in the eighth, perhaps because he'd tweaked his abdomen just a bit while reaching for a high-bouncing ball, but Bobby Parnell and Frank Francisco were able to preserve the lead thanks in large part to some fine fielding by Omar Quintinilla (and no thanks to the ninth-inning home run Francisco surrendered to Ryan Zimmerman). So, Dickey cruised, the offense got a two-run shot from Lucas Duda and a nice, manufactured run tacked on by Daniel Murphy in the seventh, and the bull pen avoided further disaster to seal the 3-1 victory and avoid the sweep. Oh, and Gary Cohen and Keith Hernandez spent a good ten minutes trying to figure out the Spanish word for "onion." That was fun.
But back to Dickey. Good lord, is he hot right now. The numbers tell much of the tale but not the whole thing. He's pitched 24 2/3 consecutive scoreless innings and is 4-0 in his last four with a 0.29 ERA, three walks, and 38 strikeouts over that stretch. Silliness. You've got to lay eyes on him, though. Watching the top of the Nats' order — Bryce Harper in particular! — just flail at thin air all afternoon was a sight to behold. Even the occasional contact they made was limp and unthreatening. Dickey's knuckleball is torturing folks these days, and it's preeeeetty great.
The Mets now head back to New York — but not home — for a series with the Yankees.