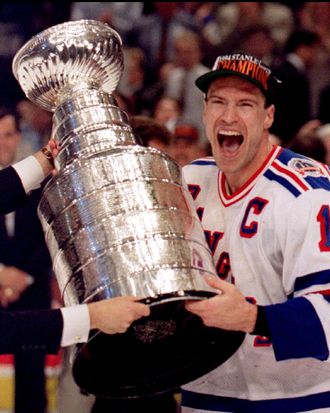 This photo was taken on June 14, 1994.
The NHL Draft begins tonight in Pittsburgh, and so players with birth dates between September 16, 1993, and September 15, 1994 are eligible to be drafted for the first time tonight. And as we mentioned way back in November, this means that players born on June 14, 1994, the day the Rangers last won the Stanley Cup, are eligible to be selected. Here, the final list of those players, along with their final Central Scouting rankings (where applicable).
• Loic Leduc, a defenseman from the Cape Breton Screaming Eagles of the Quebec Major Junior Hockey League, was ranked 209th out of 210 North American skaters in Central Scouting's final rankings. In the midterm rankings, he'd been ranked at No. 168. (If you're wondering, there are a total of 211 picks in the seven-round Draft, but remember, that ranking of 209th is only among North American skaters and doesn't include North American goalies or any international players.)
• Igor Ustinsky, a goalie from Russia, wasn't included in the midterm rankings but was ranked eighth out of eleven international goalies on Central Scouting's final list.
• Nikolas Olsson, a forward from Escondido, California, appeared on Central Scouting's preliminary watch list and was ranked 136th in the midterm rankings, but he wasn't included in the final rankings. Olsson, who this past season was a member of the member of the U.S. Under-18 National Team Development Program, was, however, recently drafted by Sioux City Musketeers of the United States Hockey League.
Rangers fans secretly hoping that the team will select one or more of these players, regardless of their ranking, should note that the team has one pick in each of the first four rounds of the draft but, barring any trades, has no picks in rounds four through seven. But those looking for a link to the '94 Stanley Cup season might want to turn their attention to Stefan Matteau, the son of the Rangers playoff hero who we mentioned briefly in our November post. He wasn't born on June 14, but Central Scouting has him ranked seventeenth among North American skaters. He's projected to go in the first round, and it's at least possible he'll still be around when the Rangers make their first selection with the 28th overall pick.