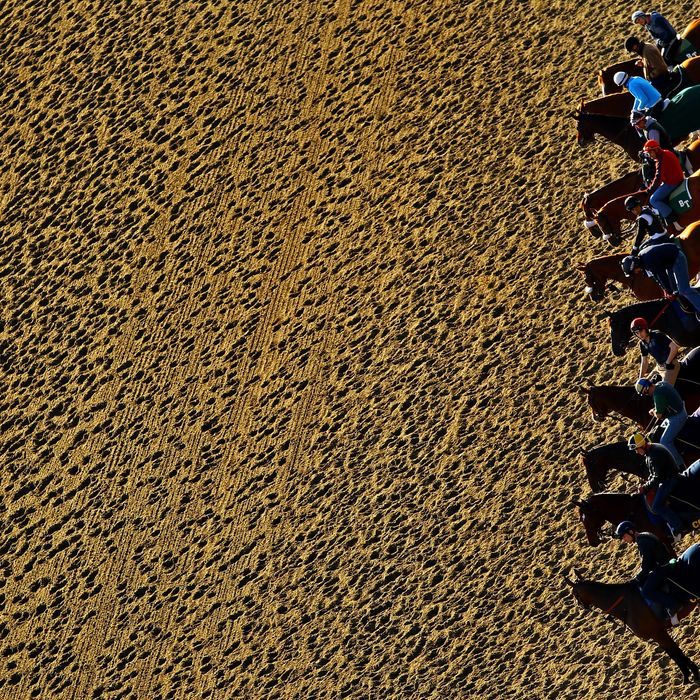 In 2004, a large number of our personal and professional associates made sure to go to the Belmont Stakes and put $2 on Smarty Jones to win just to say they were there, just so they'd have a memento of the first Triple Crown winner in 26 years. Smarty Jones, being a Philadelphian, couldn't come through. Big Brown, a decidedly less popular horse, couldn't come through in 2008 either. On Saturday, I'll Have Another, who probably falls in the middle of those two in terms of mainstream popularity, is gonna go for it. Should you make the trip?
Eleven horses will be trying to stop I'll Have Another from entering the history books, and the horse was installed yesterday as a 4:5 favorite. We generally find it impossible to write about horse racing, not because it isn't entertaining, but because there is, by definition, no story, at least not for the competitors themselves. Imagine if, after Kevin Durant won the Western Conference championship trophy last night, Lisa Salters asked him, "How do you feel?" and he responded, "You know, I'm actually starving. Also, I have no idea what just happened. Why is everyone so excited? Some small person just hit me on the ass for five minutes. I would really like to mount something right now. Oh, I just pooped. Could somebody get me some freaking food?"
(Actually, that would be fantastic if Durant did that. That would be the most enlightening sideline interview of all time.)
Anyway, for all the talk of horses "choking" on the last leg of the Triple Crown — or, our favorite, "them buildings get pretty tall once you cross the Hudson River" — the only time the world cares about the Belmont Stakes is when a horse won the first two legs, and here we are. So, if you wanna go, this is the time to do it. It'll be far more crowded than non–Triple Crown Belmonts, but it's still not crazy. Even though the race is officially sold out, you can get tickets in the general admission grandstand on StubHub for about $17. The trains will be running out of Penn Station all day — the first race is at 11:30, with the big one at 5:30 — and every fifteen minutes after the race. Plus, the weather's supposed to be nice Saturday.
And if you want to feel like you're right there, you can get "Apron Reserved Seats," the best seats in the house, for about $800 a pop. That might seem like a lot, but that wouldn't even have gotten you terrace at mid-court seats for Game 3 of the Knicks playoffs, not to mention the Rangers in the Eastern Conference finals. (Though it would get you past the moat at Yankee Stadium.) It has been 34 years since a Triple Crown winner. Saturday could be the day, and you could be there. Just looks out for them buildings that get pretty tall.