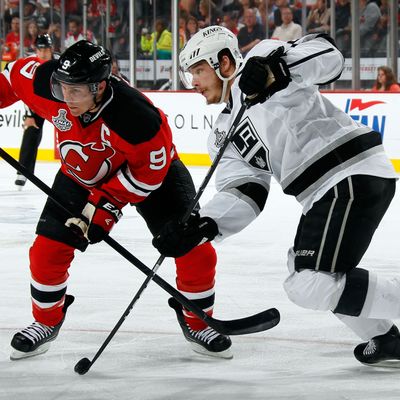 One of these guys will be handed the Stanley Cup by the commissioner this week.
By our unscientific tally, we're pretty sure more people have now written about the poor (but improving) ratings for the Stanley Cup Final over the past week than have actually tuned into any of the games. There are plenty of reasons for this that have been covered elsewhere — the teams involved, competition from the NBA, and so on — but this was also a series that until just a few days ago looked like it might be over quickly: The Kings won the first three games — the third of them in a rout — and had a chance to wrap things up at home last Wednesday. They didn't, and then on Saturday night, they lost again, dropping their first road game of the entire postseason.
The teams will meet in Game 6 in Los Angeles tonight, and once again, the Stanley Cup will be in the house. Once again, longtime Kings TV announcer Bob Miller will call the potential clincher, even though it won't be broadcast live. Once again, the Kings have a chance to win their first championship in franchise history. But less than a week ago, this appeared to be a Kings coronation. Now, it's a series.
Of course, the Kings still have a 3-2 series lead, and their goaltender has been the best player in this postseason. Indeed, Jonathan Quick is capable of stealing Game 6, even if his team doesn't dominate the way they did in Game 3. But Quick has been human in the past couple of games — the turnover that led to Zach Parise's goal was a killer — and 40-year-old Martin Brodeur has been turning back the clock. There are all sorts of reasons the momentum has shifted towards the Devils — even luck (or lack thereof, depending on your perspective) has played a part — and the x's and o's of it all are plenty fascinating. But not even a week ago, after Quick had given up a total of two goals in three games, the Devils had virtually no margin for error. Now, they have reason to believe that good things can happen for them offensively, even against the mighty Quick, if they're able to effectively play their preferred forechecking style.
The Kings can talk all they want about how they were tested plenty in the first three rounds of the playoffs, even though none of those series lasted more than five games. But this is a new kind of adversity. The Devils have already made things interesting by forcing a Game 6, and New Jersey's been resilient throughout these playoffs. Just one more Devils win now means one final cross-country flight, and one final game to determine a champion. The puck drops a little after 8 p.m. Eastern tonight.