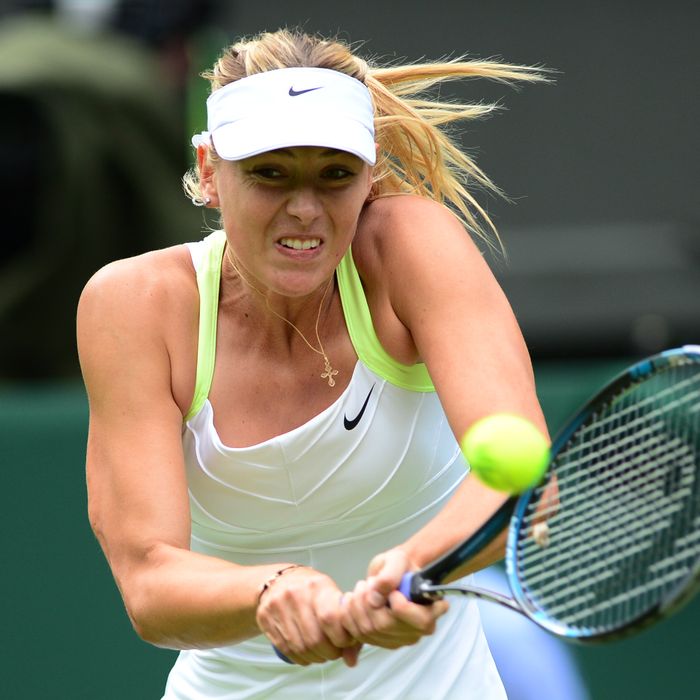 As an American citizen, there's an above-average chance that tennis only crosses your radar when the sport physically comes to Queens for the US Open, along with some stray highlights you might catch from Wimbledon this week. But with the Olympics wedged into the schedule this year, tennis is set to roll out some intriguing summer entertainment. If underdogs, broken records, power shifts, and bouts of public catfighting are your bag, then sit back, pour yourself a Pimm's cup (or eat one with a spoon, if you prefer), and read up on the ten reasons why you should care about tennis this summer.
1. Because even tennis players deal with awkward post-breakup run-ins.
Player selection for the Olympics has already provided us with a good deal of drama, as several countries battled with their own athletes about who should be qualified to represent their nation. The most dramatic of narratives, however, lives on; India is fortuitous enough to have three excellent men's doubles players: Leander Paes (ranked 7), Rohan Bopanna (13), and Mahesh Bhupathi (15). While ranked slightly lower, India decided to nominate Bhupathi to play with Paes, as the two were formerly a dynamite doubles team with several Grand Slam titles.
The problem? Paes and Bhupathi now loathe each other, after their career together ended in a messy breakup last year. Bhupathi now plays with Bopanna, and the two felt they proved their mettle to be sent together as a second team. As such, both refused to be paired with Paes. Meanwhile, Paes voiced his concern about being paired with a lower-ranked player just to accommodate his compatriots. When nominations were made official, though, India decided to pair Paes with a junior player and send two teams, pleasing Bopanna and Bhupathi, but establishing a weirdly tense narrative, in which it appears that India is seemingly eager to defeat itself.
2. The quest for gold may depend on the efficiency of lawn-care specialists.
Wimbledon will fittingly host the tennis events during the London Olympics, but because the sport relies heavily on baseline grinding, the court quickly goes from a lush green meadow on day one of the Slam to a dirty dustbowl come finals weekend. The club then will have exactly three weeks to revive the brutalized grass. They claim to have perfected the process, but it will still be intriguing to see how the Frankensteined court "plays." The minutiae of a different surface, like bad bounces or differences in speed, can be enough to throw highly sensitive players into fits. (See: the drama caused by Madrid's blue clay this spring.)
3. The conservative Wimbledon will show a little leg.
A common argument against tennis is that it still emanates an air of class exclusion. Much of this comes from the "tennis whites" rule at racket clubs, most notably enforced at Wimbledon. However, for the Olympics (and the Olympics only), the buttoned-up establishment will let its hair down and allow players to wear their country colors; it will be delightful to see how the strawberries-and-cream crowd handles the scandal of it all.
4. Grass in the U.S. will actually matter this year.
The Campbell's Hall of Fame Tennis Championships in Newport, Rhode Island, is a grass-court tournament that's cursed by strange timing, since it comes after Wimbledon, thus rendering it largely irrelevant to the grass season. This year, however, it's situated before the Olympics, which means its players will use the event as further preparation — making this the first time in decades that a grass-court event in the U.S. will actually carry genuine significance.
5. We might be saying an emotional farewell on U.S. soil.
Prepare to shed some tears this summer, as we'll likely say goodbye to a few tour favorites after the US Open, the final Slam of the year. While it's mostly speculation, there are rumors that several late-career players have been "hanging on" in order to play in the Olympics one last time. Kim Clijsters, for example, has already announced that this year on the tour will be her last. Being a US Open darling, expect some heart-wrenching ceremonies. (Venus Williams, who just lost in the first round at Wimbledon, is also a slighter possibility.)
6. Speaking of Clijsters, she could throw the draw into disarray.
Due to a year spent plagued by persistent injury, Clijsters comes to Wimbledon unseeded. And if you ask Jelena Janković (the former number-one player who had the misfortune of meeting her in the first round), she's also deadly. While her form under genuine pressure is still unknown, there's no doubt that Vera Zvonareva (who Clijsters crushed in the 2010 US Open final) and Angelique Kerber are likely ruing their potential run-in with the Belgian in the third and fourth rounds, respectively. After Wimbledon, Clijsters could wreak the same havoc in Flushing.
7. Rafael Nadal has taken a punch too many.
After enduring numerous demoralizing losses to Novak Djokovic for more than a year, Nadal has finally found the strength within to beat him. He rendered the Serb listless during their admittedly bizarre French Open final, but on grass, the playing field is even. Their epic encounters have already been enthralling, but the potential quality of play with a mentally prepared Nadal is mind-boggling. If the two don't collide in the final at Wimbledon, it's only a matter of time this summer until their rivalry is once again put to the test.
8. Maria Sharapova is ushering in a new era.
You can poke holes in her French Open win all you like, but the fact remains that the Russian has turned a mental corner, finally claiming a Slam after her shoulder surgery. (Granted, she didn't encounter her foe Victoria Azarenka, but she did slay Petra Kvitová, the Czech woman who pulled the rug from under her at the 2011 Wimbledon final.) A strong Sharapova means a stronger women's field, which is particularly heartening given the 30-year-old Serena Williams's wobbles in Paris this year.
9. Everyone loves an underdog that actually wins.
There are several inspiring underdog stories to regale yourself with of late, but few will tug at your heart quite like Brian Baker, a former top junior player that recently returned to the tour after a staggering six-year hiatus that included five surgeries. Baker impressively slugged it through the qualifying rounds of both the French Open (where he later played a screamer of a match in the main draw against the fifth-seeded Jo-Wilfried Tsonga) and now Wimbledon. He won his opener against Rui Machado yesterday, and it would do your soul some good to root for the kid at Wimbledon and later on his home turf at the US Open.
10. Roger Federer's fight isn't over yet.
With Nadal taking a piece of Djokovic's armor, there's now less of a gap for Federer to climb in order to reclaim the number-one ranking. To do so, he only has to, you know, win Wimbledon and, in the process, likely take out Djokovic in the semis and possibly either Andy Murray or (probably) Nadal in the final. A tall order indeed, but keep in mind that this is a year in which Federer is focused on claiming lingering "trophies" for his career: He's just one week shy of tying Pete Sampras's record for most weeks at number one, he wants to reclaim the Wimbledon throne, and he's desperate for a gold medal. Look for the GOAT to make a major push in the coming weeks.