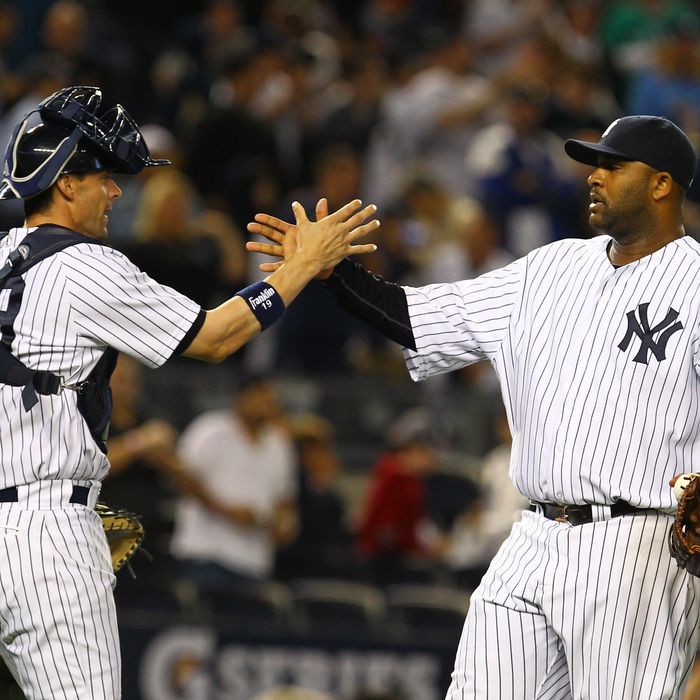 Did Brian Cashman's reassuring locker room speech on May 22 serve as the catalyst for the team's current hot streak? Or maybe it can be attributed to the wildly successful Nationwide Yankee Juju Intervention led by juju expert and John Sterling–aficionado Hart Seely? Because this Yankees team — the one that was so frustratingly mediocre for the first month and a half of the season — is now the hottest team in baseball, and they're on their best run in years.
Last night's 6-2 win over Atlanta makes ten straight victories — every last one of them against teams from the NL East. It's their first 10-game winning streak since 2005, and looking back a bit further, they've won 13 of 14 and and 20 of 24. They have the best record in the American League, and for the second time in a week — and this is about the craziest sentence we've ever written — they benefited from an R.A. Dickey one-hitter against a team chasing them in the AL East. (Last night's Baltimore loss, combined with the Yankee's win, dropped the O's to two and a half games out of first.)
All of these wins haven't exactly fit a particular template — there's been some late-inning comebacks mixed in, and Saturday gave us a fourteen-inning marathon — but once again last night, the Yankees got a strong outing from their starting pitcher. CC Sabathia struck out ten last night, allowing two runs in a complete-game effort. (Sabathia is just one strikeout behind Justin Verlander on the American League leaderboard, trailing him 103-102 through fourteen starts.) The Yankees lineup — even with a couple of injuries — should be able to score its share of runs most nights. But this kind of consistency from the rotation has been something to watch. They're bound to cool off one of these days. But it doesn't have to be tonight.
Speaking of tonight: The Yankees will be looking for their eleventh straight victory when they once again play the Braves, and via the AP, the Yanks have had just one winning streak of at least eleven games since 1965. It came back in 1985, and to put that in perspective, two-fifths of the Yankees' current rotation hadn't been born yet. One of the pitchers who was alive at that point, Hiroki Kuroda, gets the ball tonight.