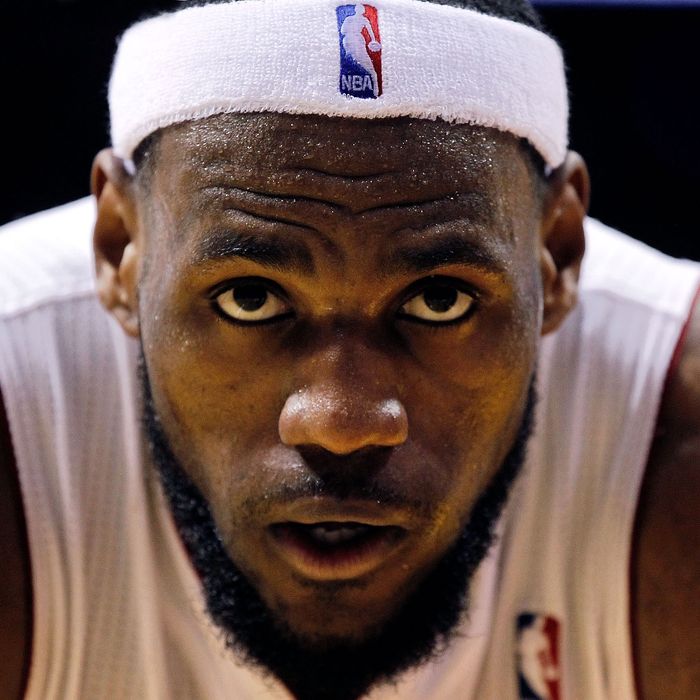 When you are a player with the talent — "talents," even — of LeBron James, the expectation is not that you will someday win an NBA championship; the expectation is that you will win several. This has made LeBron's struggles — again, "struggles" — over the first nine years of his career both more intense and more formidable: Because he is expected to never lose, his rare failures loom far larger than his many successes. But those failures have themselves stacked up now, to the point that the consensus is that LeBron has earned a championship now. Tonight, he can get it.
The Heat, up 3-1 in the NBA Finals over the Oklahoma City Thunder, will attempt to win their second NBA title tonight and their first in The Decision era. It's amazing what a difference two weeks can make. On June 6, Kevin Garnett had just dropped a double-double on the Heat, and the Celtics had a 3-2 lead in the Eastern Conference finals. LeBron looked farther away from a title than ever, and there was widespread speculation that the Heat would have to trade Dwyane Wade or Chris Bosh in the off-season. Since then, the Heat have gone 5-1, LeBron has overcome some nasty cramps, and they're now just one game away.
We've made our cheering preferences around these parts quite clear, and we do feel everyone has maybe allowed a fortnight of terrific basketball to make them forget just how obnoxious and tone-deaf LeBron has been over the past two years. But honestly, at this point, who cares? LeBron is playing basketball at the highest level possible right now, and even if the guy still irks one personally, it has nothing to do with the pure enjoyment of watching him work. If LeBron and the Heat win tonight, it will be the first line in LeBron's ledger, the same way no one remembers any of Michael Jordan's playoff woes at the beginning of his career. He can erase a large part of what people remember about him. LeBron has certainly become well aware of the downside of being a superstar athlete over the last two years; this is the good part.
Unless, of course, the Heat lose tonight, and we head back to Oklahoma City in front of a lunatic crowd and a reenergized young Thunder team that's probably more talented, top to bottom, than the Heat. That's still looming, and if that happens, we'll have to go through all this again. But LeBron can silence everybody tonight. It's tough to see how he doesn't do it.