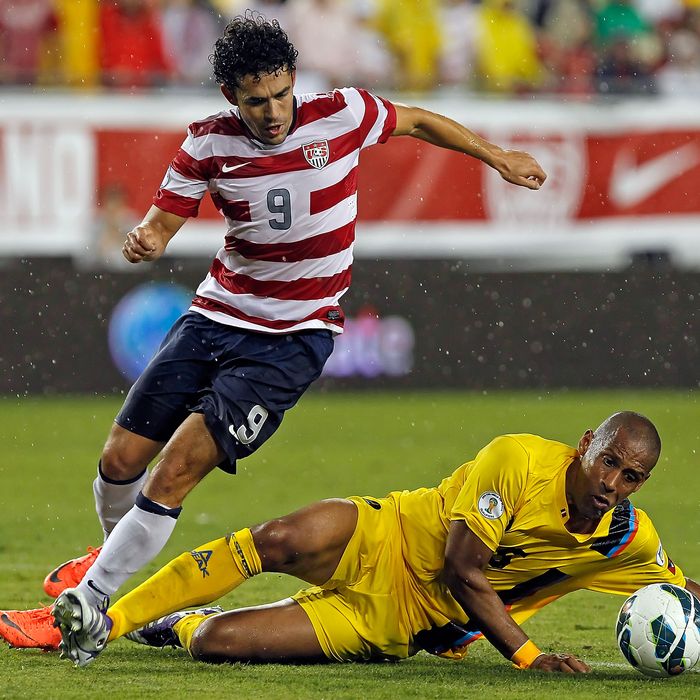 We actually dig the new striped jerseys.
For the record, Guatemala, where the U.S. Men's National Soccer Team plays a World Cup qualifying match tonight, is not as scary as you remember it being. The Lonely Planet guide says, "Guatemala's got its problems (most visible in its sprawling capital, Guatemala City), but it isn't the scary place your mother fears it is. Travel here, once dangerous and uncomfortable, is now characterized by ease — you can do pretty much whatever you want, and will only be limited by your imagination." Just to be safe, though, USMNT will be limited not just by their imagination, but also by a ton of security people with guns.
The match, which kicks off at 10 p.m tonight, is being played at Estadio Mateo Flores in Guatemala City, which holds 30,000 people. It is also the site of one of the most tragic sports events in history, when more than 80 people were killed when fans created a "human avalanche" in the upper deck. They've all sorts of issues at the stadium in the past, many of which are frighteningly documented here:
So, yeah: It could get a little hairy in there; the U.S. team even had some issues when they played there in 2008. The trick for the men's team is to get in there, get a win, and get home in one piece. That the game is being played at night — 10 p.m. Eastern time, 8 p.m. local time — could actually lead to a scarier environment, the same way Red Sox–Yankees games are always a little more rollicking and dangerous when they play at night than during the day. (This is typically a problem at Wrigley Field, actually.) The Guatemalan team is currently missing three players because of a match-fixing scandal, and they just lost to Jamaica last week. They need a win desperately. The crowd will be berserk. The referees will clearly be intimidating and maybe corrupt. Isn't soccer grand?
The goal then, mostly, is escape. But the U.S. could really use a win. They weren't particularly impressive in a home win over Antigua and Barbuda last week, and Guatemala is, theoretically anyway, a little better. (They're ranked 85th in the world, compared to Antigua and Barbuda's 105th.) This is the hairiest trip the U.S. will take in qualifying — Antigua and Barbuda and Jamaica, the road trips left, will be far more pleasant — and a win here would put the U.S. in the driver's seat for the rest of qualifying, which will commence again in September with a home game against Jamaica (in Columbus, Ohio) and a trip to Kingston, Jamaica. The U.S. needs to win. But mostly they need to get home.
By the way, because host nations get to determine television contracts for these matches, this game is only available on pay-per-view, and then only if you have Dish Network or DirecTV (and you're willing to pay $29.95). U.S. Soccer was furious about this, and they've put up a list of bars showing the match on their website. We will be at Legends tonight, watching this and Game 1 of the NBA Finals. Go team. Get home safe.