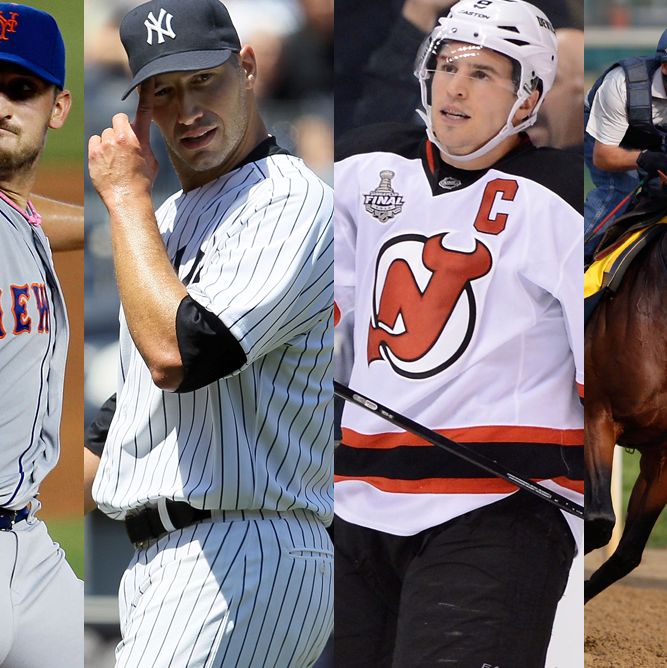 Jonathon Niese, Andy Pettitte, Zach Parise, and Union Rags.
There's a lot going on, sports-wise, in the New York metropolitan area this weekend: The Mets and Yankees meet at Yankee Stadium in another Subway Series, a bunch of horses not named I'll Have Another will run in the Belmont Stakes, and thanks to the Devils' win in Los Angeles on Wednesday night while facing elimination, they'll play the Kings in Game 5 of the Stanley Cup Final at the Prudential Center in Newark. But what happened this week that didn't involve plans for channel surfing?
We learned some things about Johan Santana's no-hitter: how the jorts-wearing gentleman who ran onto the field spent two nights in jail and missed his son's first birthday party, how an intern wound up covering the game for the Times, how Jon Stewart reacted in the stands after the final out, and that one can purchase a ticket to the game, even though it's already over.
Meanwhile, after the Mets lost the final game of their series against the Cardinals, they lost two of three in Washington.
After taking a weekend series in Detroit, the Yankees won two of three against the Rays.
The Thunder advanced to the NBA Finals, while the Heat and Celtics are headed to a Game 7.
We look at the Mets' and Yankees' top draft picks.
And Michael Kay got into a war of words with a self-described college kid on Twitter.
That's it for us. Have a great weekend.