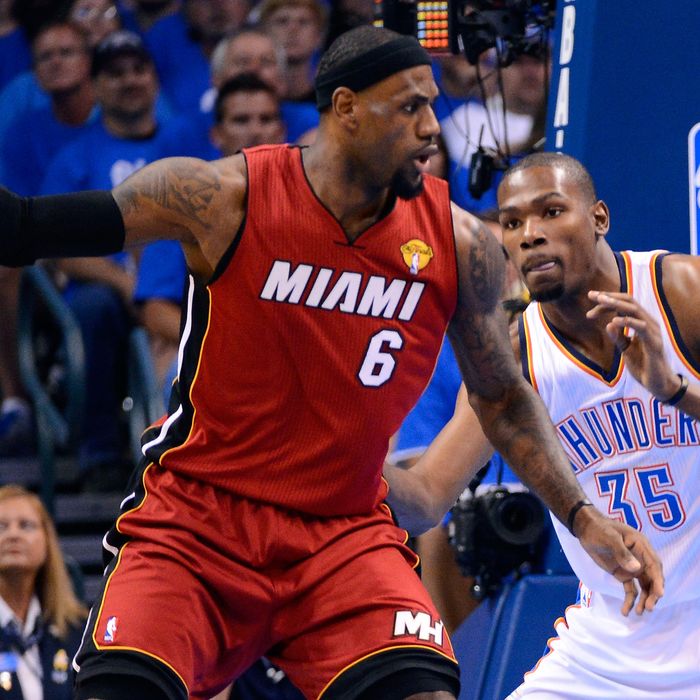 LeBron James and Kevin Durant.
On Saturday night, the Heat knocked off the Celtics in Game 7 of the Eastern Conference Finals, setting up an NBA Finals matchup with the Western Conference champion Thunder. And though Kevin Durant and company took Game 1 on Tuesday night, the Heat responded with a Game 2 victory last night, gaining home-court advantage as the series shifts to Miami. But what happened this week that didn't involve a one-time man-child?
After sweeping the Mets over the weekend, the Yankees took three straight in Atlanta. Next up? The red-hot Nationals.
After getting swept by the Yankees over the weekend, the Mets won three in a row against the Rays, including a brilliant one-hitter thrown by R.A. Dickey.
The Kings won the Stanley Cup.
The Giants took a risk by placing Jake Ballard on waivers, and he was claimed by New England.
Zach Parise said there's "no way" he'd sign with the Rangers as a free agent.
The USMNT tied the Guatemala in World Cup qualifying.
We acknowledged the 25th anniversary of TV Roger McDowell spitting on Seinfeld's Kramer and Newman.
And we chatted with Stony Brook baseball head coach Matt Senk about the College World Series.
That's it for us. Have a great weekend.