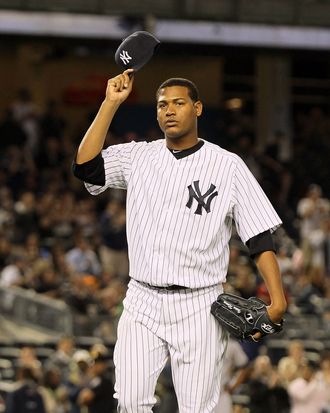 Okay, maybe it's too early to really look ahead to the All-Star break, but the Yankees aren't scheduled to play a team that currently has a sub-.500 record until after the Midsummer Classic in Kansas City. In fact, on Tuesday they began a stretch in which they'll play 28 straight games against teams that currently have between 30 and 32 wins. The Yankees, by the way, have 31. Some of the teams they have coming up — the Rays, Mets, Braves, Nationals, Indians, and White Sox — could get hotter or colder, but with the All-Star Game a month from Sunday, the Yankees look to have plenty of games before the break against comparable opponents. (Their one series against a team that currently has fewer than 30 wins is the last one before the break, against the Red Sox, who are currently 28-28.)
And so we should be able to learn a lot about the Yankees over the next month or so. They've gotten off to a good start in June — they're 4-1 so far this month — and they've won five out of six and ten of their last thirteen. And so far against the Rays — the first of those teams in the 30-to-32 win range — the Yankees' starting pitching has been impressive.
On Tuesday, Andy Pettitte threw seven and a third innings of two-hit shutout ball, and last night, Ivan Nova took a two-hitter into the ninth, finishing the night with an excellent line: eight innings, four hits, one earned run, one walk, and five strikeouts. Nova has struggled some this year — he'd given up at least five runs in five of his last seven starts entering last night's game — but he twirled a gem last night, pitching into the ninth inning for the first time in 45 career starts.
We'll continue to preface any update of the standings by reminding you that it's June and one should take such movement for what it's worth, but the Yankees leapfrogged the Rays in the A.L. East with last night's win. They're still a half-game behind first-place Baltimore, though. CC Saabthia pitches tonight against David Price.