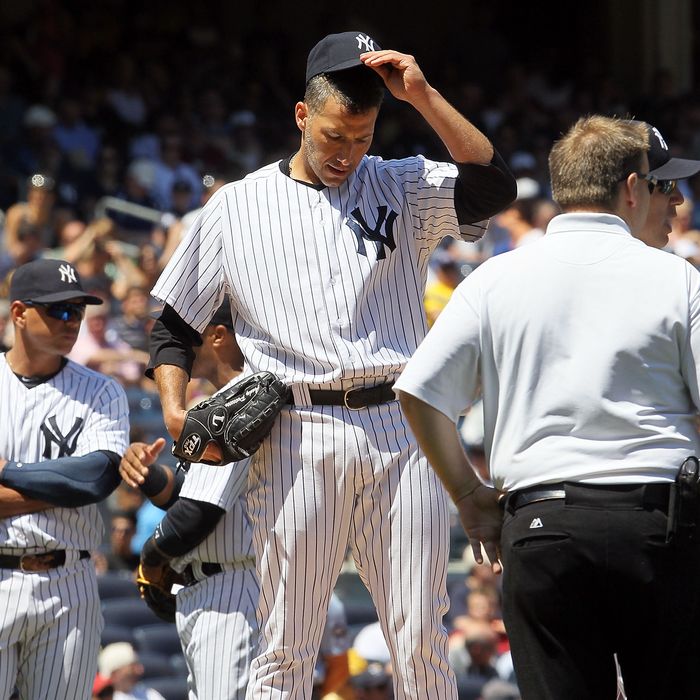 The Yankees have won five in a row, have the biggest lead of any division leader (it's up to five games now), and have the best record in all of baseball. Everything is wonderful! Yet everyone is very sad and worried. In the span of about 90 minutes yesterday, the Yankees lost their best two pitchers. Is it time to panic? It is not.
Before yesterday's win over the Indians — one that Rafael Soriano almost blew, which would have just been the perfect ending to a lousy day — the Yanks put CC Sabathia on the DL with a strained groin. Then Andy Pettitte got nailed with a line drive, and he'll be out even longer, six weeks. We don't suppose Michael Pineda's all of a sudden ready yet, is he? (Ah, no.)
But nobody freak out. First off, Sabathia, thanks to the All-Star break, is probably only going to miss two starts. He'll be replaced by Adam Warren, who will make his Major League debut tomorrow night against the White Sox. His Minor League numbers aren't overwhelming, but he's known as an innings eater who won't walk a ton of guys. All the Yankees need Warren to do is pitch six innings or so and not get lit up. And he only has to do it twice; Sabathia is unlikely to have to miss any more time. This is no big deal.
The Pettitte injury feels like a big deal until you remember Pettitte wasn't even supposed to be pitching this year in the first place and, frankly, was probably due for a regression at some point in the coming weeks anyway. (He'd been putting up his best Yankees ERA in more than a decade, which couldn't remain the case.) Freddy Garcia will take his spot in the rotation, and even though that's not ideal, Garcia has been pitching better lately out of the pen and has at least proven himself to be generally reliable and unlikely to give up six runs in the first on four walks or something. Six weeks is a long time, but it's not that long; Pettitte will be back with at least a month and a half to go in the season, more than enough time to prepare for a presumed postseason. Garcia can surely hold down the fort that long.
More to the point: The Yankees have a five-game lead already and one of the best offenses (and bullpens) in baseball. You'd obviously rather not lose your best two starters in the span of 90 minutes. But if you have to, it's nice to have the team that's left healthy be the Yankees. They're going to be just fine. They always are.