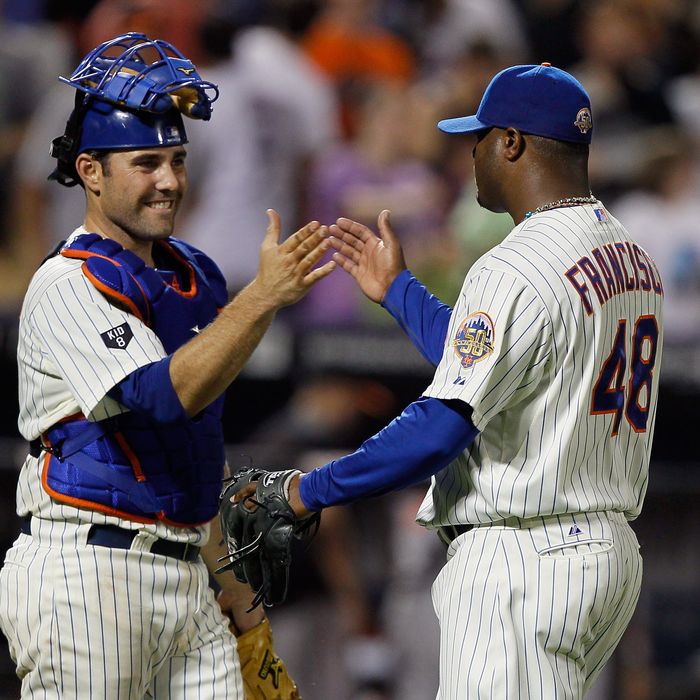 Frank Francisco and Mike Nickeas.
If you've seen the front page of the Post today, you may be aware that Frank Francisco says he's looking forward to facing the Yankees at Citi Field this weekend. His exact quote: "I can't wait to face those chickens." Added the Mets closer: "I want to strike out the side against them. I've done it before." Now, there's nothing wrong with Francisco saying he wants to strike out the side if he gets into a game this weekend — he should want to do that! — and there's nothing wrong with a little trash talking, even if this weekend's series, which should be plenty of fun, hardly seems like something that would inspire such fighting words from the players themselves. Our objection is more to the specific nature of the trash talking. Are the Yankees really chickens?
We doubt he's talking in general terms, which is to say, the Yankees don't really have a reputation of being a bunch of chickens. (More common criticisms would be that some of them are old or overpaid or cheaters.) It's possible he was suggesting that the Yankees would be afraid to face him specifically, since his career numbers against the Yankees are pretty good. (As he says, he did once strike out the side against the Yankees, though that was eight years ago, and one of the three batters he faced is no longer on the team.) But the Yankees are likely familiar with his work this year: He's posted a 5.14 ERA and a 1.571 WHIP. Of course, he could record a save (or saves) this weekend, and it's possible he could even strike out the side. But one doubts the Yankees are especially afraid of facing him.
Today, he had more to say. Also from the Post: "I make a simple comment because they complain a lot, for every call, for every thing." Of course, complaining and being a chicken aren't really the same thing. Maybe he wanted to take a shot at the Yankees and simply chose his words poorly. Because otherwise, this is all rather confusing.