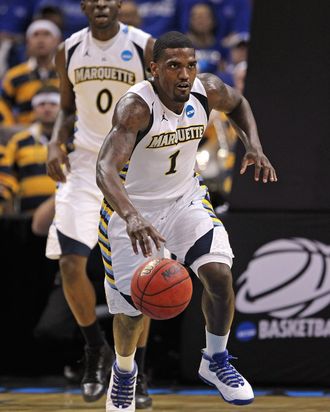 The Knicks might take this guy.
The NBA Draft is tomorrow night, and we will not pretend to have any idea what is going to happen. We find it amusing every year, when the NFL and NBA Drafts come around, how professional sports commentators with no particular expertise in the field begin touting "flops" and "hits" and "steals" and so on. Even if you have watched college and international basketball obsessively, you still have no idea. Last year, Georgia Tech fans fell all over themselves telling Knicks fans how poor a choice they'd made by selecting Iman Shumpert; he turned out to be a season saver. We've watched every game Illinois's Meyers Leonard has played for two years, and we haven't the foggiest idea whether he should go in the lottery or the second round. It's a crapshoot. It's a draft. It's crazy by nature. It's crazy by design.
This year's draft has less interest for casual area fans than usual because neither of our teams (and we're including the Nets now, so one best reconcile oneself to that reality) has picks in the first round. The Knicks traded away their first-round pick to Houston in 2010 to get rid of cap space to go after LeBron (oops), and the Nets gave theirs to Portland for Gerald Wallace (double oops). Each team has one pick in the second round; the Knicks have the 48th pick, and the Nets the 57th.
Thankfully, there are still sites that do mock drafts for the second round. So we thought we'd take a look at whom each of them had the Knicks and Nets taking tomorrow night. Heck, maybe you'll even know some of these guys!
New York Knicks
DraftExpress.com: Khris Middleton, SF, Texas A&M.
ESPN's Chad Ford: Jae Crowder, SF, Marquette.
The Hoops Report: Dee Bost, PG, Mississippi State
NBADraft.net: William Buford, SG, Ohio State.
Sheridan Hoops: Darius Odom-Johnson, SG, Marquette.
DraftExpress.com: Henry Sims, PF, Georgetown.
ESPN's Chad Ford: Drew Gordon, PF, New Mexico.
The Hoops Report: Mike Scott, PF, Virginia
NBADraft.net: Cameron Moore, PF, Alabama-Birmingham
Sheridan Hoops: Henry Sims, PF, Georgetown.