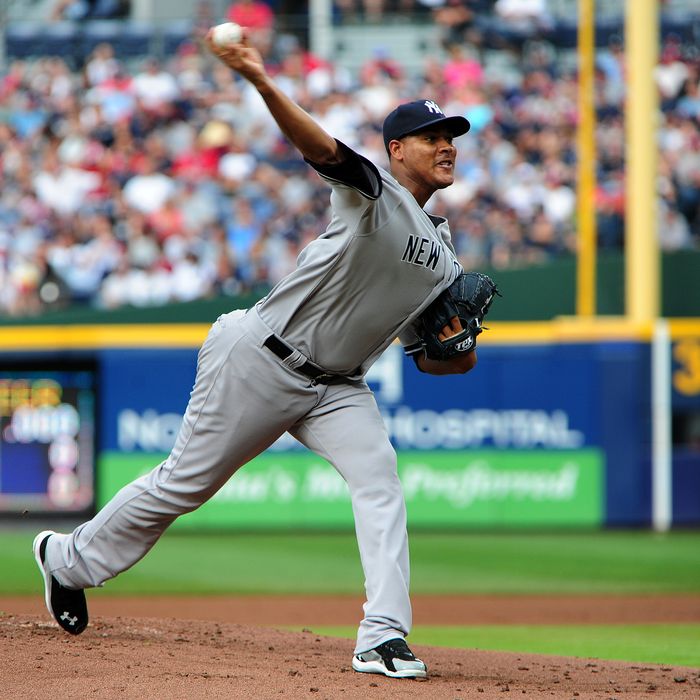 Hey, remember this? That was not long ago. Just 21 days have passed since May 22. You may not have changed your sheets since then (you should probably change your sheets). The Yankees were a .500 team with a 21-21 record, slumming at the bottom of the American League East in a last-place tie with the Red Sox. Folks were grumpy, but Joe knew better than to fret:
… [The] Yankees won't always look quite as bad as they have over the past week or so. They'll have a stretch soon enough where they'll win a few games, and there will still be a hundred-plus games left, and suddenly the season won't seem so lost.
The man DeLessio is known for his prescience. It is June 12, the Yankees have 102 games left to play, and they are tied with the Rays for first place in the AL East — in the whole AL, as a matter of fact. The Red Sox, meanwhile, have only sunk below .500 and are still stuck to the division floor (remember this?). Again, it's a long season, and the Yankees are still a flawed team, but things sure have turned around promptly.
New York owes its stake in the division lead to some fine pitching and defense last night in Atlanta. Ivan Nova pitched a lovely seven innings, getting himself out of a couple jams and forbidding any Braves from reaching third base in the process. Nova also, as Pinstripe Alley points out, held the 3-4-5 chunk of Atlanta's lineup hitless in nine plate appearances against him. That's splendid stuff, although he does owe a tip of the hat to Nick Swisher for robbing Brian McCann (who went 0-4 despite some meaty contact with a few pitches — just one of those nights) of what would have been a two-run homer in the fourth. Nova and friends cut through seven fine innings — Nova even got his first career hit in there — then Cody Eppley, Clay Rapada, Cory Wade, and Boone Logan each bit off a piece of the final two to complete the shutout.
As is their wont, the Yankees didn't string together many big offensive innings. The first frame saw Robinson Cano single Alex Rodriguez in from second, but that was the end of the night's RISPiness. Their best answer to a loaded set of bases thereafter was for Rodriguez to hustle home on a wild pitch in the third inning. Other than that, Raul Ibanez's solo homer was the only productive hitting. 
The Yankees are still flawed, just like they were 21 days ago, but things have synced up nicely, and sole ownership of first place now hangs in the balance as CC Sabathia takes the mound tonight in Atlanta while the Rays host the Mets.