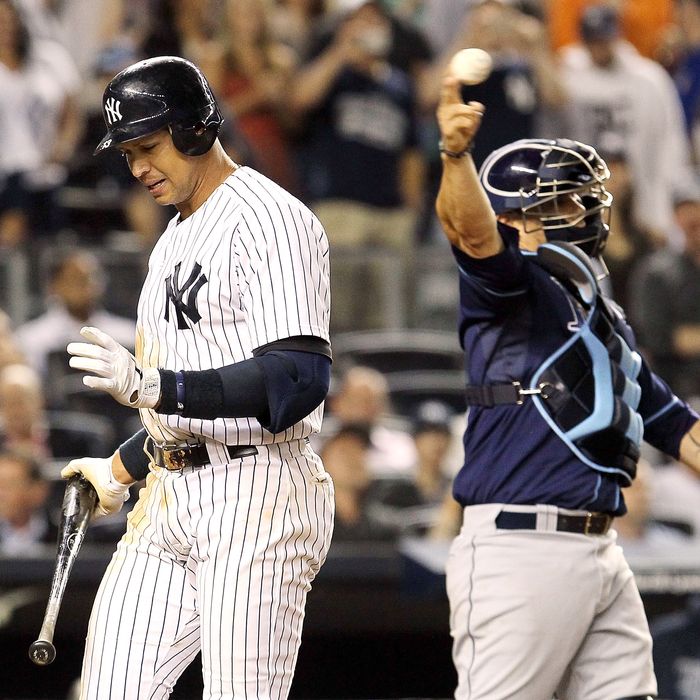 A lot's been going right for the Yankees over the past week or so — a few impressive pitching performances especially stand out — but their struggles with the bases loaded continue. Last night, down 5-1 in the fifth, Mark Teixeira, batting third last night, walked, loading the bases. But Alex Rodriguez struck out on David Price's eleventh pitch of the at-bat, and Robinson Cano grounded out to second to end the inning.
The Yankees' woes as a team with the bases loaded (and with men in scoring position, in general) have been well documented, but Rodriguez and Cano have especially struggled: A-Rod is 1-for-10 with the bases loaded so far in 2012, and Cano is 1-for-12, though Cano's one hit is a grand slam. As a team, the Yankees went 1-for-9 with runners in scoring position last night and are hitting just .218 on the season in such situations. It's only June, of course, but this has become a thing.
This isn't to say that the Yankees' inability to  score some runs in that fifth inning is the only reason they lost: CC Sabathia struck out twelve but didn't pitch his best game, A-Rod made a costly error in the third, and Price deserves a lot of credit for winning that battle with A-Rod with the bases loaded in the fifth. So, too, does the Tampa Bay bull pen: Price's long fifth inning ended his night, but the Yankees would never get closer than three runs down.