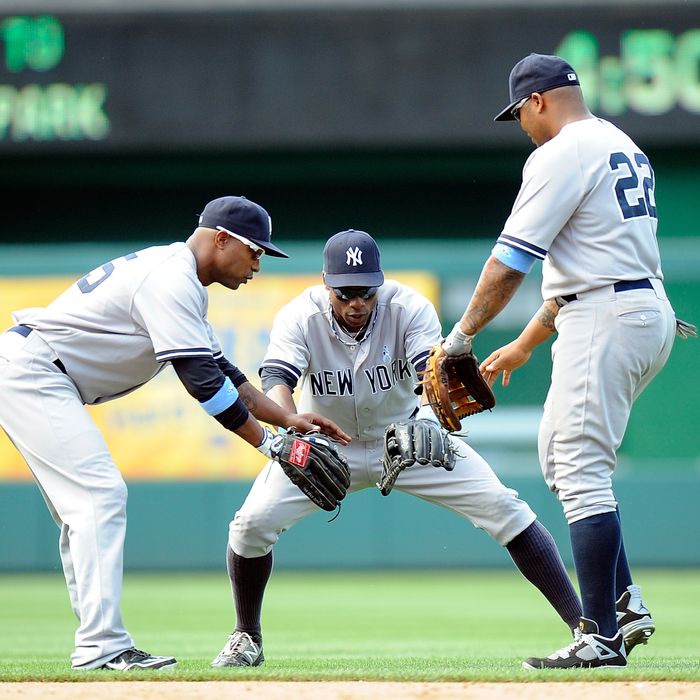 We sometimes think the most difficult part of being a professional baseball player is remembering all the various handshakes and celebrations.
So, the Yankees won their ninth straight game yesterday, sweeping the Nationals in Washington and finishing off a perfect road trip. It's their third-straight series sweep, and they've now won 9 games in a row and 19 out of 23. We could go on all day with numbers like this, but since we're in the midst of interleague play, we'll just add that the Yankees are playing all but three games of their interleague slate this year against teams from the NL East, and so far, it's going pretty well. They're 9-0 against the Mets, Braves, and Nationals, with two more series (against the Braves and Mets) still to play. What we're saying is: Ozzie Guillen (whose Marlins don't play the Yankees) owes Joe Girardi's team some sort of gift basket.
Of course, a team can't win 19 of 23 simply by beating up on a single division in the other league. This run even predates the stretch against teams with solid records that we'd identified as important a couple of weeks ago. In fact, it started the day after the Yankees fell into a tie for last place on May 21 and has included wins over a couple of weaker opponents but also some solid teams. The Nationals team the Yankees just swept had won six in a row coming into this weekend and still has a four-game lead in their division. (We know, the Yankees missed Stephen Strasburg, but still, a sweep is a sweep.) Back on May 22, we wondered if perhaps the Yankees hadn't even hit rock bottom yet. It appears as though they had.
The Yankees' success these past few weeks can't be attributed to a single aspect of their game, but to repeat what we said last week, the starting pitching has been especially encouraging. Three more pitchers turned in quality starts this weekend, and Phil Hughes, perhaps the biggest question mark on the staff and someone who'd been pitching himself out of the rotation not all that long ago, has now thrown three of those in a row, lowering his ERA by more than a run so far this month. The Yankees should be able to score runs — on Saturday, they even finally won their first game in which they didn't hit a homer — but their rotation is looking more and more like a strength.
The baseball season is long, and most fans have been conditioned to know that unless you're following the '62 Mets or the '98 Yankees, teams go through multiple ups and downs. The Yankees weren't as hopeless as they were in May, just as they're not quite as dominant as they've been over the past few series. All it will take to snap this current winning streak is one opposing pitcher whose stuff is working or one opposing lineup who has the Yankees starter's number, and they'll look vincible once again. But perhaps this is no time for thoughts like that. No sense in looking ahead to the inevitable cooling-off period when the winning streak is so much fun to watch.