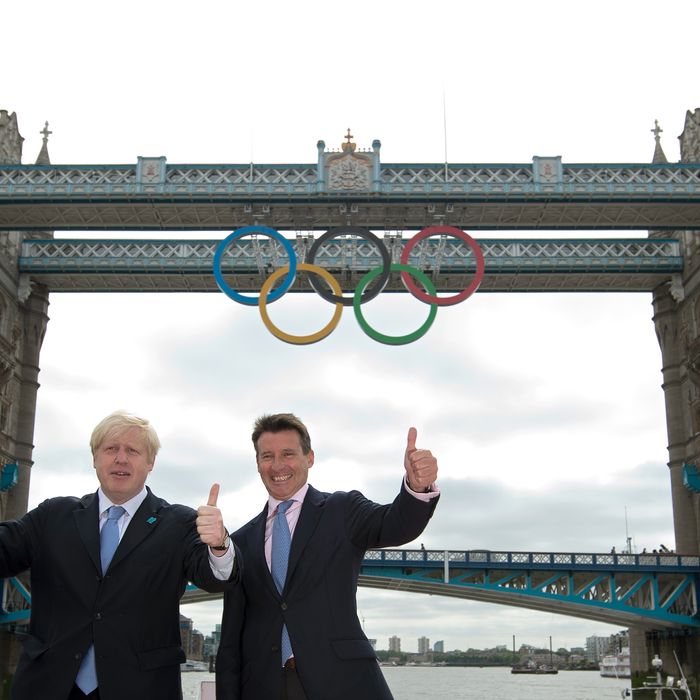 London's Mayor Boris Johnson and Sebastian Coe, Chair of London's Olympic Games' Organising Committee, celebrate the unveiling of a set Olympic rings suspended from Tower Bridge.
Only four days remain until the madness begins: This Friday night London hosts the 2012 Olympics Opening Ceremony, complete with 10,000 volunteers, farmyard animals, and, wait for it, the world's largest harmonically tuned bell. So get excited, if you're not already. Meanwhile, the athletes are arriving, excited attendees are getting lost on the Underground, and Londoners are already grumbling about well, just about everything, because everything's an inconvenience.  Here's a roundup of the many, many ways the city is preparing — or in a few instances, remains awkwardly embarrassingly unprepared.
SECURITY
Despite outcry from local residents, planting surface-to-air missiles on top of two public housing towers near the Olympic Village … and four more across London's suburbs, just because.
Stationing Typhoon fighter jets around the outskirts of the city, ready at a moment's notice and capable of "shooting down any passenger jets or other fast aircraft violating the no-fly zone."
Oh, and docking the United Kingdom's largest warship — HMS Ocean — in the Thames, where it'll be used as a base for eight helicopters and teams of Royal Marine snipers.
Arresting numerous Londoners in similar counter-terrorism sweeps, including three brothers living in close proximity to the Games' East London sites and a male who, having attended a terror camp with links to Al-Qaeda, violated a court order to stay away from the Olympic Park.
Drafting TSA agents to work at London airports, because most British people are too reserved to complain about overzealous pat downs.
Giving the primary security contract to a company, G4S, now proven entirely incapable of fulfilling it. Of 13,700 security officers needed, G4S filled only 4,000 positions, and the company's CEO agreed with government critics, labeling the shortcomings a "humiliating shambles," which is British-speak for "a huge fuckup."
Recruiting members of the British Army and police to make up for said shortcomings. Almost a fifth of the U.K.'s armed forces will now be working at the Games, some losing out on their allocated time on leave from the war in Afghanistan. (Still not the best time to plan an invasion, though, because of, you know, all those snipers, missiles, and warships dotted around.)
CEREMONY
Also from the Royal Mint: special commemorative coins in honor of the Games. However, these feature the names of Roman gods in place of the expected Greek ones. (Oops.)
Booking nine live geese for this Friday's Opening Ceremony. Directed by Danny Boyle, the performance will tell, in three acts, "the story of a land recovering from its industrial legacy and looking to the future." There will be lots of people in ye olde style costumes, and Paul McCartney will pop up, as is par for the course at big British events.
Holding a minute's silence for the Israeli athletes killed during the 1972 Munich Games today at the Olympic Village, despite calls that such a tribute be featured in Friday's opening ceremony.
Commissioning British musicians including Elton John, Muse — whose track "Survival" is the Games' official song — and grime-rapper Dizzee Rascal to write songs for the event … but sadly not the Spice Girls. They'll get to perform during the Closing Ceremony, though, so it's all good. (And what an opportunity for another Union Jack minidress, right?)
LOGISTIC-ALITY
Royally messing up ticket allocation — from the glitchy Ticketmaster-backed web service to the lotteries that saw next to no one actually get the tickets they'd wanted. Though some last-minute batches of tickets are still expected to be released, few seats costing less than $200–$300 are available even for the less prestigious events. (And even if they seem to be available, good luck actually confirming/reserving them.)

Repainting most of the city's main roads and highways to include special Olympic lanes — for VIP travelers, that is. Regular folk will be left, grumpily, in traffic snarls, and London's cab drivers are already protesting.
Offering bonuses of up to $10,000 for Underground train drivers prepared to work extra shifts during the Games. Hundreds of extra bus drivers have also picked up temporary jobs; unfortunately at least two, tasked with shuttling arriving athletes to the Olympic Village, got quite lost en route.
Ensuring that the 1,000 volunteers tasked with helping arrivals at London's airports speak over twenty languages collectively. Of course, their most crucial phrases will be "sorry about that ridiculous wait at immigration" and "sorry about the weather."
SPONSORSHIP
Signing up sponsors including Coca-Cola, Adidas, Omega, Visa, and BP Oil. Their logos at the Games will be near omnipresent, if not always well received. For example: at Olympic venues, Visa debit/credit cards will be the only payment options other than cash. Consumers with other credit cards will have to visit special kiosks — the only places their not-Visa brand of plastic is accepted — to purchase prepaid Visa cards. 
Recruiting a 300+ force of "brand policemen" who'll make sure no non-Games sponsors see their products snuck into the Olympic Village — that means no Reebok sneakers or Burger King Whoppers en masse, for example. (They'll also work to limit the impact of ticket scalpers.)
Cleverly inserting a London 2012 fleece sweater in Clive Owen's character's wardrobe for the 2006 movie Children of Men more than a year before London was officially awarded the Games. (The film's plot plays out in a dystopic near-future, 2027 to be exact.)
FACILITIES
Organizing accommodations in the Olympic Village (which will house 18,000 athletes and Games officials) so that folks who, well, don't really get along right now aren't in close proximity: "Israel and Iran are housed at opposite ends of the village; TeamGB are suitably far away from their Argentine counterparts; and the German contingent have been placed a good distance from the Greeks."
But for the athletes who do get along: supplying a total of 100,000 condoms — stamped with logos specific to the recipient's sport. An anonymous athlete quoted in the Post describes "the post-competition attempts to fill each remaining day at the Village with as much alcohol-drenched sex as possible."
Constructing a 115-meter-high steel tower, the ArcelorMittal Orbit, at a cost of over $30 million — "modern British art" in the sense that no one understands what it's for or why it's there, but are still too polite to ask.
Installing "live sites" in cities across the country — big screens so that Brits can get together in larger groups and grumble about how poorly the U.K. is doing.