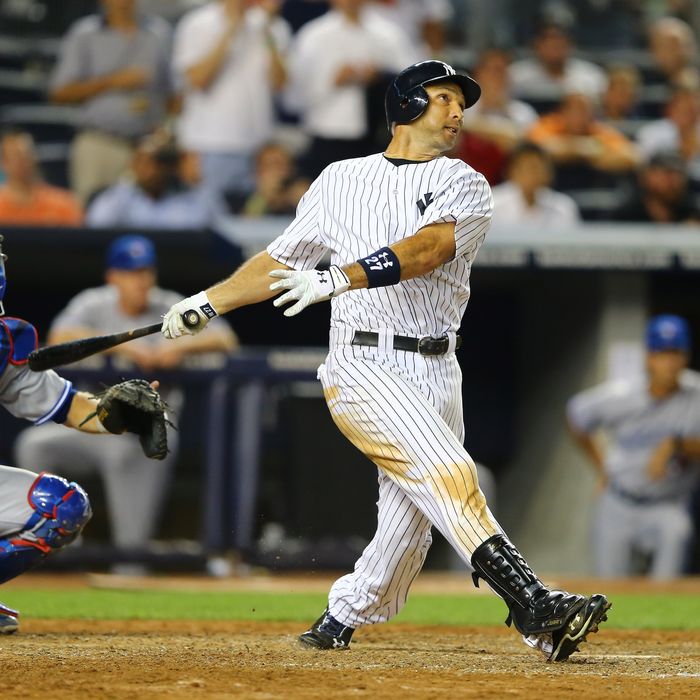 Before the Yankees signed Raul Ibanez in the off-season to be, they hoped, their DH against righties, here's how Brian Cashman described what he was looking for:
"The preference would be to find someone from the left side that can do some damage against right-handed pitching," Cashman said. "But at the same time, in the event we have injuries that hit in season, (I'm looking for a player) that my manager could put out for defense. I'm not saying a quality defender, I'm saying someone that, for an extended period of time, can still provide some kind of defensive component to protect us in the event we have injuries as we move forward. That would be the criteria we're looking at."
That effectively ruled out names like Hideki Matsui and Johnny Damon: Cashman wouldn't have been comfortable using them in the field should the Yankees suffer an injury, leading to a weird situation in which players' lack of defensive ability helped cost them a job that wouldn't necessarily require them to play defense. Cashman essentially chose to target a backup outfielder who could platoon with Andruw Jones over someone who'd strictly get playing time at designated hitter, the way Jorge Posada did last season. The end result was the signing of Raul Ibanez, whose offensive numbers had fallen off a cliff in recent years but who generally fit Cashman's criteria: some pop from the left side, and enough defensive ability that they'd be able to use him in the field in an emergency.
That, of course, is exactly what ended up happening: Brett Gardner, who was supposed to be the Yankees' starting left fielder, has been on the disabled list since April with an elbow injury. And this week, we learned that Gardner suffered another setback in his rehab, and it's possible he might not play again this season. Gardner's injury has meant extra at-bats — as well as more time in the field — for Ibanez and Jones. Through 89 games, Ibanez — the would-be platoon DH whose acceptable glove helped him get the job — has already appeared in 42 games in left field.
Anyway, last night was one of those games, and Ibanez played the role of hero, smacking an eighth-inning grand slam to break a 2–2 tie in the Yankees 6–3 win over Toronto. We don't mean to overvalue Ibanez, but his numbers have ticked up this year and some of his twelve home runs have come at good times. Via the Times, eight of them have come in the sixth inning or later, and five have given the Yankees the lead. He's capably filled the role he's been forced into so far in 2012, which is great, because with the latest update on Gardner's health, it's a role he'll have to continue to play for the foreseeable future, and perhaps for the remainder of the year.