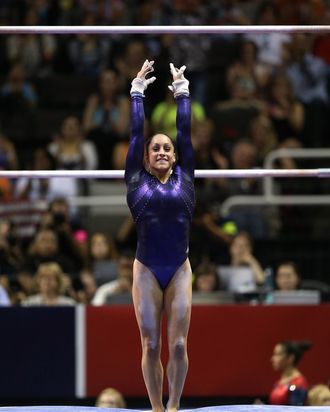 The Olympics begin in less than a week, and you will spend a fortnight obsessing over athletes and sports you won't think about again for another four years. (If then.) To prepare you for the big games o' London, we're showcasing a different athlete every weekday until they begin. Today: Jordyn Wieber.
Name: Jordyn Wieber
Nationality: USA
Sport: Gymnastics

Previous Olympic experience: None.
You might know her from: She is on the cover of this week's Sports Illustrated (along with the rest of her team) and she was on Ellen six months ago.

Most embarrassing public moment: Having been quoted as saying that one of the main reasons she wants to win an all-around gold is so she can meet Justin Bieber.
Most proud public moment: Winning the all-around gold medal at last year's World Championships in Tokyo.

What to expect from her this year: She's a slight favorite in the all-around event and has also won golds in floor, balance beam and uneven bars at other meets. She's also more likely than anyone to be the Mary Lou Retton/Kerri Strug breakout star of this Olympics. Are you ready for Wieber Fever? Get ready.

Odds that you'll remember his name in four years: If that Wieber Fever thing catches on, you may end up talking about her more in twenty years than her musical idol.
Previously:
Usain Bolt
Lia Neal
Michael Phelps
Oscar Pistorius
Kim Rhode