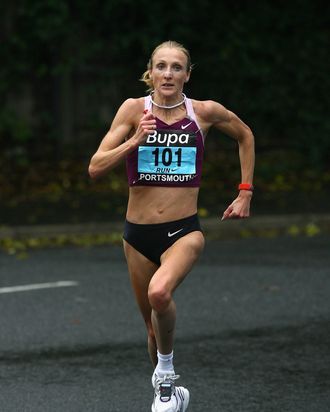 The Olympics begin in less than a week, and you will spend a fortnight obsessing over athletes and sports you won't think about again for another four years. (If then.) To prepare you for the big games o' London, we're showcasing a different athlete every weekday until they begin. Today: Paula Radcliffe.
Name: Paula Radcliffe
Nationality: Great Britain
Sport: Marathon

Previous Olympic experience: Lots of bad experience. The world's greatest female marathon runner is 0-for-5 at the Olympics; she's never even medaled. 
You might know her from: She's won the New York City marathon three times, most recently in 2008. In 2007, she was the one carrying the cute baby around after her win.

Most embarrassing public moment: "Embarrassing" is too strong, but in 2004 in Athens, she was the heavy, heavy favorite … but the extreme heat caused her to pull up lame and not finish the race. It was just another example of how Radcliffe, one of the most popular athletes in England, has been snake-bitten at the Olympics.
Most proud public moment: Setting the women's world record in marathon … and then fighting to keep it.

What to expect from her this year: As usual, she's fighting injuries that could keep her from ever reaching that long-elusive Olympic medal. But she's 38 years old and notoriously defiant of typical rules and aging curves. You'd think this is her last chance … but you might have thought that last time too.

Odds that you'll remember her name in four years: If she medals, well, if you're in England, yes. If she doesn't medal, who's to say she won't be back out there in 2016?
Previously:
Usain Bolt
Lia Neal
Michael Phelps
Oscar Pistorius
Kim Rhode
Jordyn Wieber