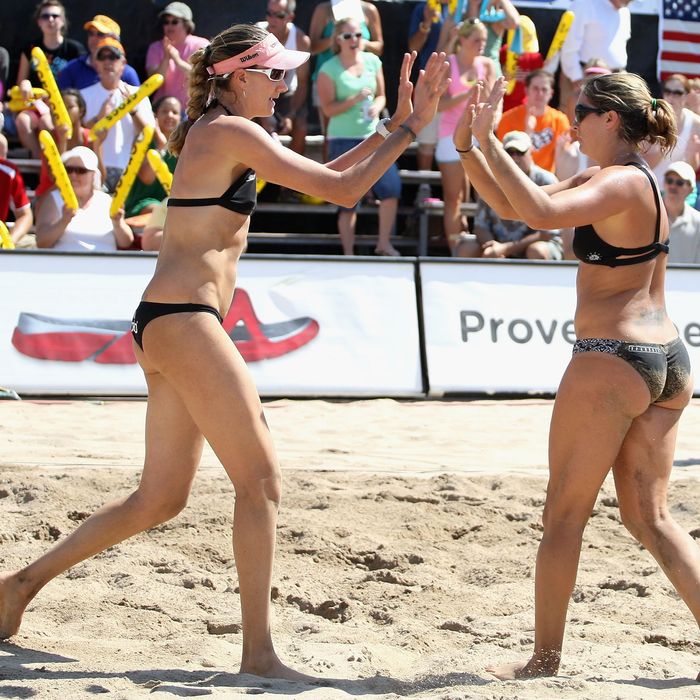 Kerri Walsh and Misty May-Treanor.
The Olympics begin tomorrow, and you will spend a fortnight obsessing over athletes and sports you won't think about again for another four years. (If then.) To prepare you for the big games o' London, we're showcasing a different athlete every weekday until they begin. Today: Kerri Walsh and Misty May-Treanor.

Name: Kerri Walsh and Misty May-Treanor
Nationality: USA
Sport: Beach volleyball

Previous Olympic experience: They've won gold medals in the last two Olympics, and they didn't lose a set either time. Walsh also played indoor volleyball in 2000.
You might know them from: The last two Olympics. Also maybe this vaguely creepy fan site.

Most embarrassing public moment: May-Treanor is married to Matt Treanor, a backup catcher who has only batted over. 233 once in his career. Okay, that's not very embarrassing. Walsh and May-Treanor are both pretty awesome. Wait: Okay, this one has to be up there.

Most proud public moment: It's not just the Olympics: Walsh and May-Treanor are the best beach-volleyball players in the sport's history. At one point, they won 112 straight matches.

What to expect from them this year: This is as vulnerable as they've ever been. Walsh has given birth to twins since the last Olympics, and May-Treanor tore her Achilles practicing for Dancing With the Stars. They even briefly played with other partners. But now they're trying to get one last gold.

Odds that you'll remember their names in four years: You might just remember that George W. Bush picture. But another appearance on Dancing With the Stars wouldn't hurt either.
Previously:
Usain Bolt
Holley Mangold
Lia Neal
Michael Phelps
Oscar Pistorius
Paula Radcliffe
Kim Rhode
Jordyn Wieber